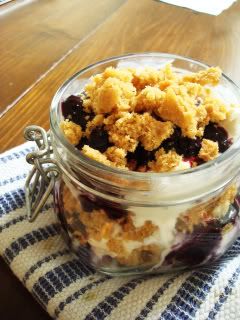 I had my eye on this recipe since last summer. Last summer. My brain holds on to things like images of ice cream sandwiches and holds them in a strangle hold until I can eat them; even if it's years later. Tasked with bringing dessert to a Sunday dinner party, I knew it was time. However, I'm nothing if not realistic about my culinary shortcomings (desserts/baking/time consuming techniques/measuring) and as such, I tried to approach this recipe with an attitude of what the yoga heads call "nonattachment." As in don't get bent out of shape if this whole thing goes to shit, fast. Be prepared to purchase an ice cream cake on the way to dinner if it's unsalvageable. I like to refer to nonattachment as "Pringles Mind", which references my favorite Mitch Hedberg joke where he says: "I think Pringles' initial intention was to make tennis balls. But on the day that the rubber was supposed to show up, a big truckload of potatoes arrived instead. But Pringles is a laid back company so they were like "F*ck it. Cut 'em up!"
When I realized, about 2/3 of the way through Step Three of this recipe that there was no way in hell that my sandwich layers would produce 7 adequate sized ice cream sandwiches, I shrugged my shoulders and thought to myself "f*ck it. Cut 'em up."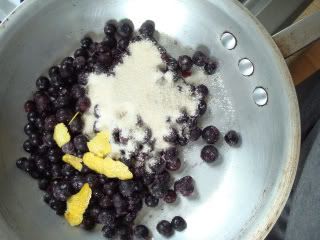 What resulted were not artfully stacked ice cream sandwiches, which you will see, with the real recipe
here
. If you really want to make ice cream sandwiches, follow the directions exactly, but double the cookie recipe. Instead, I opted to layer the ice cream, blueberry compote and blondie cookies into jars as a sort of parfait. The end result was perfectly portable, remarkably less crazy-making and undeniably delicious.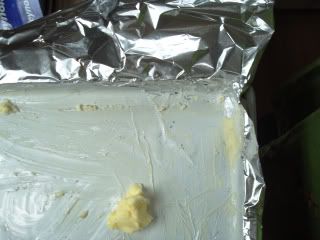 LEMON ICE CREAM PARFAIT with BLUEBERRY COMPOTE
ICE CREAM:
2 pints premium vanilla ice cream (I prefer Brigham's)
1 tablespoon grated lemon zest
2 tablespoons fresh lemon juice

BLUEBERRY COMPOTE:
2 cups blueberries (10 ounces), fresh or frozen
¼ cup sugar
2 strips lemon zest
1 tablespoon fresh lemon juice
2 teaspoons cornstarch
SANDWICH LAYERS:
1 cup all-purpose flour
½ teaspoon baking powder
¼ teaspoon baking soda
¼ teaspoon salt
1 stick unsalted butter, softened
¾ cup packed light brown sugar
1 large egg
½ teaspoon pure vanilla extract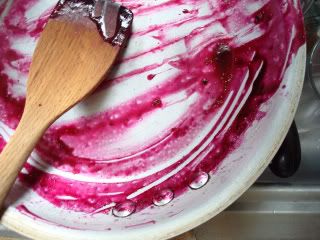 STEP ONE: Ice Cream
Soften ice cream at room temperature; or, alternately with your microwave in small 10 second intervals until soft. Combine ice cream, lemon zest and juice in a large bowl and mix together thoroughly. Return to the freezer while completing the rest of the steps.

STEP TWO: Blueberry Compote
Cook blueberries, sugar, and zest in a 12-inch heavy skillet over medium-high heat, stirring often and thoroughly crushing blueberries with a spoon or potato masher, until juices are released and sugar has dissolved, about 2-3 minutes. In a small bowl, stir together the cornstarch and lemon juice until the cornstarch has dissolved and then add this slurry to the blueberries. Boil, stirring constantly for one minute; the mixture will thicken. Remove from heat, transfer to a bowl, fish out the lemon zest strips and chill until cold, about an hour. While this chills, you can make the cookie layers. (This compote, alone, would make a delicious sauce for ice cream and takes about 5 minutes to whip up).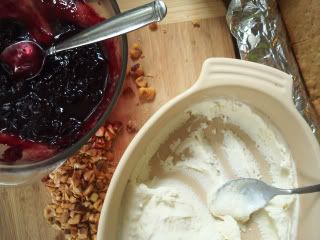 STEP THREE: Blondie "Sandwich" Layers
Preheat oven to 375°F with rack in middle. Butter a long, lipped cookie sheet (with at least a 1 inch depth) and line with foil, leaving a 1-inch overhang on each side, then butter the foil. Whisk together flour, baking powder, baking soda, and salt in a small bowl. Beat together butter and brown sugar in another bowl with an electric mixer at medium-high speed until pale and fluffy, about 3-5 minutes; beat in egg and vanilla. Turn mixer speed to low and add flour in two batches, making sure it's combined in before adding the second. Your batter will look a lot like chocolate chip cookie dough sans chips. Spread batter into a thin, even layer on buttered, foiled cookie sheet. Bake until golden-brown but still tender, 10 to 12 minutes. Remove from the oven and let cool completely.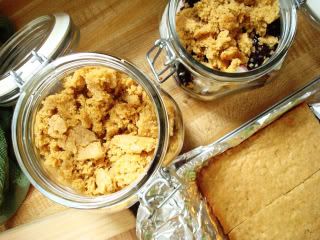 To assemble the parfaits layer ice cream, compote and crushed up cookie; repeat until the jar is filled, clamp the lid on and freeze until about 30 minutes before serving. Let thaw at room temperature for a bit so that the ice cream and compote can soften and become scoopable.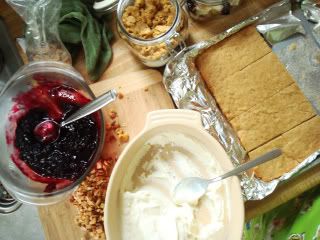 Other ideas:
as I was making these I was thinking if you were short on time, you could fudge these Sandra Lee style with all purchased, prepared ingredients. A good strawberry jam, vanilla ice cream and Oreos; or, vanilla ice cream, peach compote and crushed ginger snaps; OR, coffee ice cream, fudge sauce, chocolate cookies and crushed up almonds. I could go on like this all day.