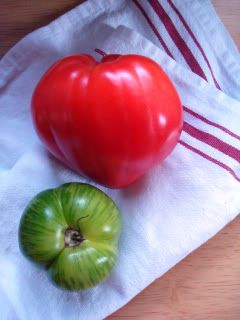 I think I'm pretty sure every meal I've eaten in the past two weeks has had corn or tomatoes in it, or both. Except for those meals where I've forsaken vegetables all together (like the mountain of fried seafood I had on Friday night). It's my most
favorite time of year
to be eating. When "cooking" adds up to just assembling delicious things together and adding a little bit of seasoning. When I feel like I owe it to myself to eat as many tomatoes and kernels of fresh local corn as I can possibly take before they, and the summer, leave me for another year. You should do it too. Take advantage.
PESTO CHICKEN and HEIRLOOM TOMATO SALAD
with PESTO VINAIGRETTE
1 head Boston lettuce
2 tomatoes, chopped (heirloom or beefsteak)
3 slices thick cut pancetta or bacon, cooked and crumbled
2-3 tbs. toasted pine nuts
Fresh mozzarella torn or chopped into bite sized pieces
Grilled pesto chicken breasts, or boneless thighs
One container pesto, homemade or store bought
Salt, pepper
Olive oil
Juice from half a lemon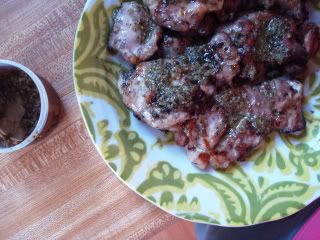 I made this for dinner last night. When I told my squeeze I was making salad for dinner he was kinda like "really, just a salad?" and then he saw me dumping crumbled pancetta and chunks of fresh mozzarella in the bowl and he was like "oh it's like a GOOD kind of salad." I kept thinking of Manwich, the "sandwich that eats like a meal." This is a salad that eats like a meal. Just add a slice of crusty bread on the side for sopping up tomato juice and dressing at the bottom of the bowl.
This, by the way, is how I feel about heirloom tomatoes: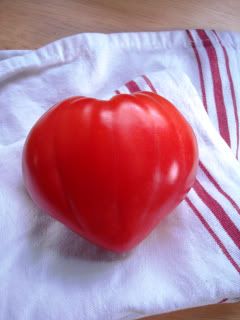 Salt and pepper each side of your chicken and pound out to an even width. Rub with just a bit of olive oil and set over a grill on medium heat. Cook chicken through, spooning pesto on each side as you get closer to the end of the cooking process. Set chicken aside until you're ready to eat. Feel free to add a little more pesto to the chicken when it's all done.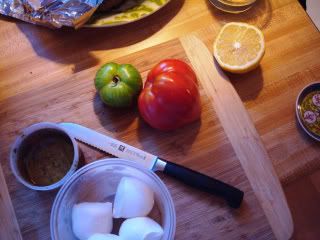 Combine lettuce, tomatoes, cheese, pancetta, pine nuts and chicken in a salad bowl. In a separate bowl whisk together a few heaping tablespoons of pesto with some olive oil and the juice from half a lemon. Add salt and pepper to the dressing and the salad. Toss together; remembering to just use just a little dressing to start, you can always add more. Serve. Eat seconds, maybe thirds, definitely dessert. This salad would also be delicious if you omitted the chicken and added sliced avocado; or if you don't have mozzarella, it would be great with gorgonzola or feta cheese.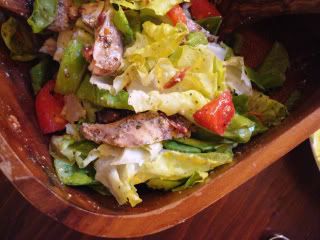 SUMMER SQUASH and FIRE ROASTED CORN FLATBREAD
Thin crust pizza shell or flatbread
1 small summer squash
1 ear of corn on the cob
1 4 oz. package goat cheese
Juice from one lemon
Shredded or grated parmesan
Salt, pepper
Basil leaves, torn
Olive oil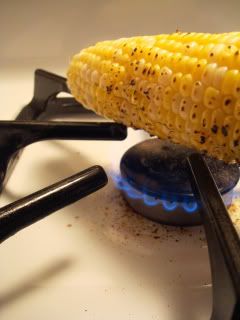 You could surely make your own pizza dough here, but I must be honest, I used a Top This!* shell that I purchased at the store. It was totally overpriced, but I had a lot of things to do before getting dinner ready and sometimes the idea of saving money and being a stellar homemaker gets bulldozed by the idea of actually just doing the easiest thing possible when it comes to dinner.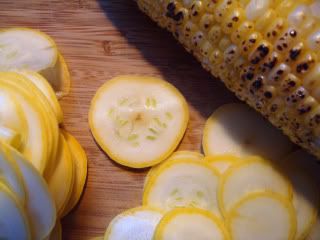 The inspiration for this particular pizza comes two fold from one of my favorite food blogs, Smitten Kitchen. Last year (I think, wait maybe two years ago) she made this delicious, light,
summery goat cheese-based pizza
, which I promptly
recreated
. Last week, or say two weeks ago, she made these
charred corn tacos
which inspired me to make like a South American street vendor and drop my corn directly onto a flame. Preparation is so simple and the end result is light, tangy and so summery. This is the perfect topping for a super thin crust pizza, because you don't want to over-top these particular pizza shells, or they end result will be a crispy edge and a very soggy center.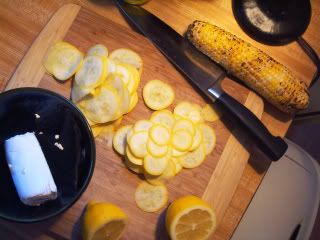 Peel your ear of corn and set it directly over the flame of a gas burner on medium high heat. Using heat-safe tongs turn and move the cob often, getting a nice char in spots, shifting it around periodically to cook all sides (Warning: it will spit and sizzle a little, but it's not really that scary. Also, make sure your windows are open, since you will just be letting a gas burner burn in an open kitchen for upwards of a couple minutes). Let cool and then slice the kernels off the cob and set aside. While your corn cools, using a knife or (preferably) a mandolin slicer on the thinnest setting, slice your squash into whisper thin rounds.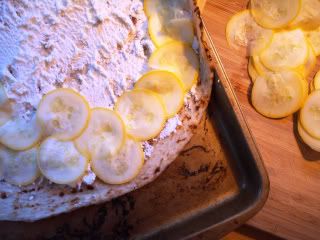 In a small to medium bowl, mash your entire package of goat cheese with the lemon juice (a fork works perfect) and spread this as your base onto the pizza shell. Arrange the squash slices in a thin layer, overlapping the edges slightly until the pizza is completely covered. Scatter the corn over, and then a light layer of grated parmesan and some salt and pepper. Cook in a 450 degree oven for about 8-9 minutes. Or, if you are making your own pizza crust, maybe longer, at least until the crust is brown and the parmesan has melted. Scatter torn basil over, and serve immediately.
I made this variation and a standard margarita pizza for my friend when she came over for dinner. The pizza shells are so thin that this ends up being a fairly light dinner perfect for two people. Yes, that works out to a pizza each. Judge not.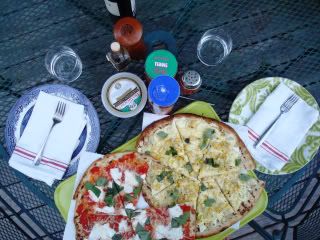 *which I always want to call Top That! I can't even type those words without thinking of
this classic gem
. You're welcome.