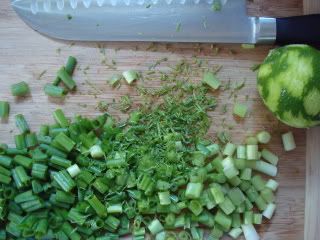 A few weeks ago we were gifted with a few pounds of the freshest tuna you can get your hands on. It's not every day that someone gives me a hunk of fish they caught themselves (for free!) so as you can imagine I was a little bit pumped. I had a few days to figure out what to do with it (tuna has to "bleed out" so that it doesn't taste metallic and/or fishy). I was planning on tuna tartare, because it's so delicious. I found an Asian style recipe of Ina Garten's that looked great. I picked up some sesame oil and wasabi powder and headed home on Saturday afternoon to prepare it. We were heading to our friends, Trish and Steve's to grill out for the evening and when I had told her of our unexpected seafood bounty she was all "BRING THE TUNA."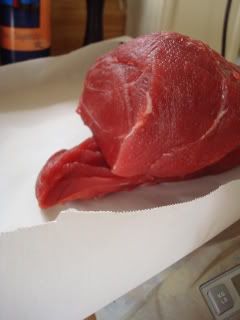 Except I was… scared. I've never prepared or served people raw fish before. I inspected and sniffed at the fish like a crazy person. I paced back and forth and glanced at the recipe over and over, convinced that I would miss some crucial step that would definitely kill us and our friends, or at the very least confine us to the bathroom for the remainder of the weekend.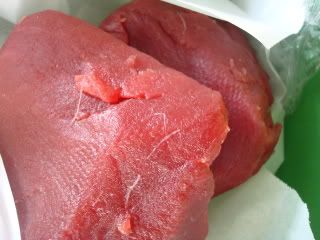 I called Paul to ask his opinion and he echoed my hesitation. We both agreed that while we would have no problem eating tuna tartare if someone else brought it to the party; we just weren't comfortable being the raw fish purveyors in charge of everyone's gastrointestinal well being. In short: we wimped out. We are wimps. Big time.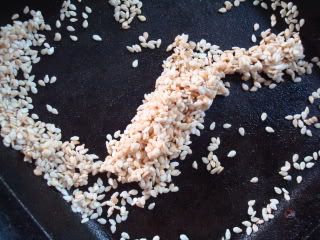 I decided on a much safer option: slicing the fish into thick steaks and marinating them. Though we would, to honor the fish as it should be prepared, merely be searing the tuna on the outside and leaving it rare in the middle, just the act of cooking the outside made me feel considerably less scared about it. Also, since I wasn't grilling, it would be Steve's fault if everyone was poisoned and their life ruined, right? I believe they call this "passing the buck."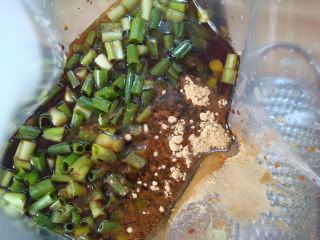 With the buck successfully passed I relaxed. The resulting tuna steaks were dynamite I'm quite sure they were so good because they were expertly grilled by our gracious host, but most everybody gave credit to me for the marinade, so I took that buck right back and basked in the compliments. I'm totally good at that. This marinade is ideal on tuna steaks but would also be great on portobello mushrooms, chicken, shrimp or steak.
WASABI SOY MARINADE
Soy sauce
Juice and zest from 1 lime
Toasted sesame oil
Olive oil
3-4 garlic cloves, smashed and peeled
1-2 tsp. ground ginger (use fresh grated if you have it)
½-1 tsp wasabi powder
4-6 scallions, minced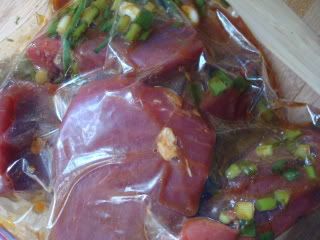 I sliced the tuna into somewhat equal sized steaks and placed them in a Ziploc, to which I added all of the above listed things. You're going to want about twice as much soy sauce as you have sesame and olive oil, but essentially, all you want to do is make enough liquid to cover your steaks. The soy sauce, olive oil and lime juice will make up the bulk of your liquid, with just a small drizzle of toasted sesame. The garlic, ginger, scallions and wasabi will infuse the liquid and it really is all just delicious. Soy sauce is my marinade secret weapon. If you're watching your sodium, there are plenty of lower sodium choices out there that you can use.
Due to the fact I made a last minute recipe change up, I had 4 super ripe avocados that needed to be used as well. Instead of making my usual guacamole recipe, I decided to stick with the Japanese "flavor profiles"- as the top chefs say- and try and make an Asian style guacamole. We called it gucamori, so that it sounded kind of Japanese. It was no greater or less than regular guacamole. In my opinion, if you mash up some avocados, that business is gonna be good, so if you like scallions and sesame seeds, try the guacamori, we had no complaints. If that sounds wack to you, stick with the traditional cilantro and onions or try my
favorite party guacamole
.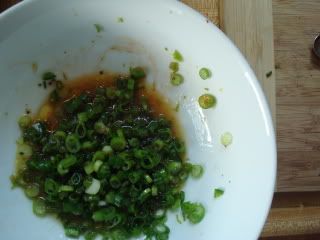 GUACAMORI
4 ripe avocados
1 jalapeno seeded and finely minced
2 scallions, minced
Juice from one lime
1-2 tbs. soy sauce
½ tsp wasabi powder
Salt, pepper
Sriracha Thai chili sauce to taste
Toasted sesame seeds (optional)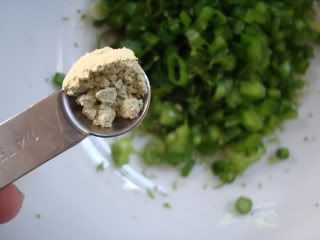 Combine jalapeno, scallion, lime juice, soy sauce and wasabi in a bowl. Scoop avocados in, mash with fork to desired consistency. Salt, pepper and Sriracha (or hot sauce) to taste. Serve with homemade pita chips.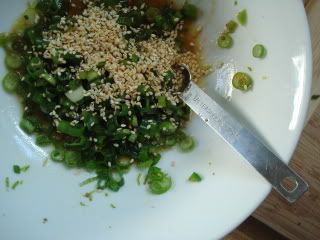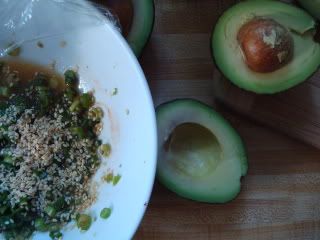 Old wives tale or awesome tip?
I read recently that if you want to keep your guacamole from turning brown en route to your dinner party or wherever you may be traveling with guacamole (bat mitzvah, pajama party, aerobics class) keep one of the avocado pits in the bowl and cover tightly with plastic wrap (so that the plastic is actually squished onto the top of the guacamole, not simply stretched tight across the top of your bowl). Paul said he thought this sounded like an urban legend. But how many urban legends do you know about avocados? Alls I know is mine stayed pretty green. Not sure how this technique would pan out over the course of several hours, since I made mine right before we left the house, but, give it a try.