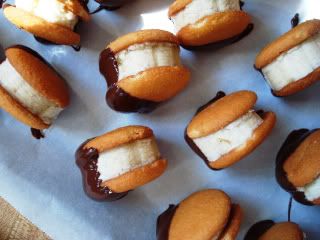 For a long time when I was little my older brother was determined to make me into an athlete. I was, to put it gently, a bit stocky, so I think that he hoped that underneath my dense build was the muscular core of a star athlete in training. Also, I think even though I had been born a girl he was optimistic he could partake in traditional little brother/big brother activities with me. As a result it was him, not my parents, that would wake up early on Saturday mornings and take me to my youth basketball games, blaring House of Pain to get me pumped up. And it was him, not my dad (who was more comfortable with an airbrush in his hand then a baseball mitt) who coached my youth softball team.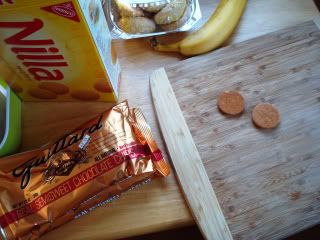 Unfortunately, all the Celtic rap and brotherly support in the world couldn't help the fact that the only sports related move I had mastered by adolescence was getting the wind knocked out of me. I spent more time in the dugout sullenly nursing injuries and offering to go on runs to the snack bar for Freeze Pops then I did making victory laps around the bases. The religious fervor with which I would pray to not get any pop flies hit in my direction while tending right field, rivaled the most devout pilgrims.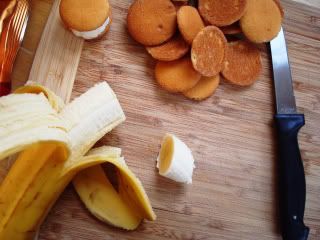 So competitive in the athletic sense I'm not, but when it comes to bringing a dish to a party, there's part of me that wants, well, to win. "Win" in this sense means, see most, or all, of it devoured and garner at least 3 or more accolades from various party goers. Is that sick? Admit it, we all want to win in our small ways every once in a while.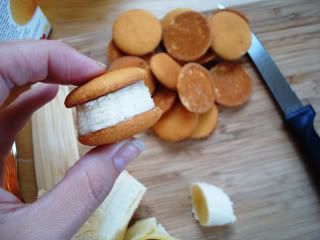 I saw these little baby Nilla Banana sandwiches all over Pinterest a couple weeks back. Since, as a society, we are predestined to adore and covet all things miniature (see also: babies, puppies, minihorses, sliders, etc.) I oohed and aahed over them along with the general public. Saturday night as I was drifting off to sleep wondering what I should bring to my bestie, Erica's housewarming party, I thought, "what if I made those tiny banana sandwiches and dipped them in chocolate?" Unathletic I may be, but I've always been pretty smart when it comes to snacks.
CHOCOLATE DIPPED NILLNANA SANDWICHES
One box Nilla wafers
About 4-5 ripe bananas
1 bag semi sweet chocolate chips
Parchment paper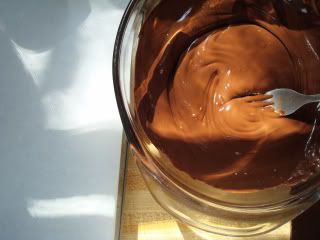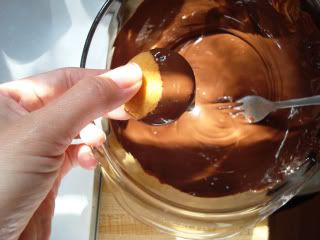 Slice bananas and sandwich between two Nilla wafers. Gently squeeze, so they will stick to each side of your banana slice. You could stop there, but I went one step further and dipped them in chocolate. Once you have sandwiched all your banana slices set out two cookie sheets and line them with parchment paper. In a microwave safe bowl, heat the chocolate chips on high, for 30 seconds at a time, removing the bowl from the microwave between spurts and stirring well with a fork to distribute the heat; continue this process until the chocolate is smooth and dip-able. I think total I probably heated mine for almost 3 minutes, maybe 3 ½. One by one, dip the tiny sandwiches in the chocolate and set on the parchment paper to cool. Bring to a party, collect accolades.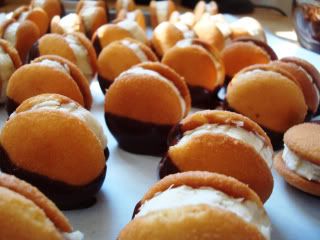 Throughout the party on Sunday, I beamed silently with delight as I saw plates of my snacks get carried out of the kitchen and delivered to Erica's grandmother and various other family members. You know it's good when people are packing them away before the grill has even been sparked. I had a certified hit on my hands, no ice packs necessary. These are so easy it almost feels like a joke to share them as a "recipe" but trust: they are a huge crowd pleaser. Next time I'm adding peanut butter in between and also, maybe dipping them in coconut.