I figured that cooking lobsters was about as difficult as cooking corn. Boil water, add food product, allow to cook, drench with butter, eat. Turns out, not so much. I had truly underestimated the amount of work that goes into a lobster dinner. Be prepared; have back up, plenty of wine and a sense of humor. I hosted the families for lobsters Monday night to celebrate Paul's birthday and these are the nuggets of knowledge I picked up: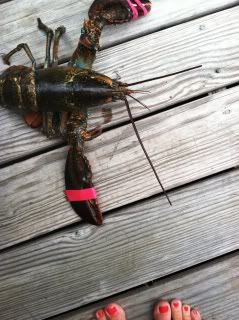 After you let the lobsters out of the bag to crawl around on your deck, you will feel acutely more like a murderer. I thought I was alone in my pre-murderous guilt when Paul came in the kitchen and said "jeez, after seeing them crawl around like that I feel kind of sad about eating them now." I mean how often do you see your food live right before you eat it? We get it Michael Pollan. Don't worry though; somewhere around the time you melt 2 pounds of butter to dip them in you will get your appetite back.
It might be slightly less work if you get normal sized lobsters. The guys we got were mammoth two pounders and wrangling them into and out of the giant lobster steamer I borrowed from my aunt took muscles. My muscles were out of shape because I spent the week lifting nothing but dark and stormies to my mouth and then eating and sunning myself at the beach and then eating, sunning myself at the beach and drinking dark and stormies. Lather, rinse, repeat. It was an excellent vacation.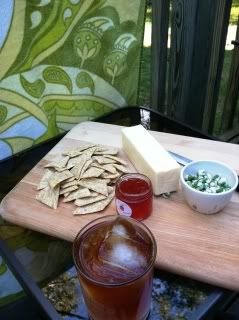 Have some man power available. Getting these men into the steamer you need three people: two to hold the beasts at the ready and one to cut the rubber bands off their claws before they meet their maker. Put them into the steamer head down (the "humane" way), close the lid, wince with guilt, and then melt some butter (the guilt melts with the butter, see above), set out some cookie sheets and dish towels to transfer the steamed beasts to when they're done.
So when are they done? I could not tell you for the life of me how long it takes to steam giant beasts like the lobsters we got, because my mother, the Fish Whisperer, kept saying "my nose will know when they're done." and I was like "er, are you sure your nose is working, because from my view it's buried in a glass of Pinot Noir?" (said under my breath of course, because I wasn't about to alienate my sous chef when I needed her most and man, did she come in handy).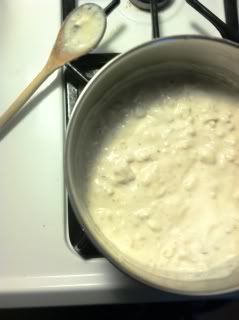 Less is more when it comes to how much water you put in the bottom of your steamer. I stupidly thought that I would want to fill it up as much as possible because I was worried it would all evaporate. But it's a steamer, not an open topped pot. Also, lobsters purge some liquid as they start to cook and the bottom of your steamer will start to bubble salt water all over your range if it's overly filled. This minor crisis will result in a quick show of muscles as you wrangle the top of the steamer off (with the giant lobsters in it), place it to the side, take the water vessel- which is brimming with melt-your-skin-off-hot sea water- very carefully and quickly to your kitchen sink, and ditch more than half of it. Just a hint, if you can: avoid this. Only fill the bottom of your lobster pot about 1/3 of the way. I felt like I was on an episode of Family Double Dare, only instead of getting green Jello on me, I was risking melting the skin off my legs if I made one wrong move. And I worked really hard to get my legs tan, so I wasn't about to cover them up with some stupid bandages.
Keep everything else as dead simple as possible. Chowder which is already made by chowder making experts is the perfect appetizer; boiled corn goes on the side, crispy roasted potatoes can be made far ahead of time and left in a warm oven as an additional side dish. Have everyone serve themselves buffet style from the kitchen table and then take their plates (btw, buy the thick Chinet oblong plates they are sturdy and soak up lobster juice well) out onto the deck. If you don't have a deck, eat on your lawn, or heck, on the freaking driveway. Whatever you do, don't serve a lobster dinner inside of your house. We all ate outside and as it was, my kitchen reeked like a Gloucester loading dock until I fired up enough Nag Champa to resurrect Jerry Garcia and boiled a bunch of lemons. I can only shudder to think of what the funk would have been if we had wrestled our lobsters out of the shells INSIDE the house. Set up tables real casual-like on the deck (or driveway/sidewalk/lawn) have a couple bowls of drawn butter at the ready, a couple big mixing bowls for discarded shells and bring the trash bucket right outside and leave it behind your table. That way, when everybody is done, you can huck the trash right into the bag, tie it up and never let that stank back into your kitchen again.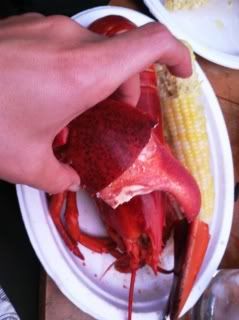 It's work for sure, but most things worthwhile are worth working for and a lobster dinner for your boyfriend's birthday is, in my book, totally one of those things. It's also the perfect meal to end a summer in New England with. If you're planning on undertaking this task, I would highly recommend having an experienced Fish Whisperer with you. I will rent my mom to you if you'd like. I'm not sure of her current fee, but I'd be willing to bet she'd do it for two bottles of Clos du Bois chardonnay and the rights to any and all leftover lobster meat.