Today is the first day of fall. Although the weather feels a little bit more like a damp August day right now. It will catch up. Last weekend we squeezed the very last few drops out of summer with baked stuffed lobsters at Michelle's house.
It was a total feast with three different, delicious appetizers including some fried green tomatoes that I will be thinking about until next summer comes. I made dessert and I knew since we were having such a rich meal that something with fruit- a little teensy, tiny bit lighter, would do the trick.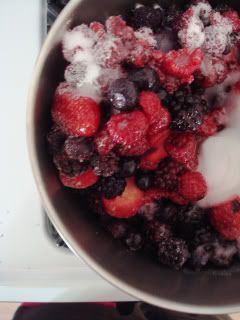 This wasn't all that light, but it was so simple and pretty, I thought I would share it. Next time I would use challah bread or a nice brioche. My grocery store didn't have either, so I bought this thick, sweet, cinnamon swirl toast that is perfect for French toast, but it turned out, a little dry for this particular recipe.
If you like the specifics, the original recipe can be found
here
. But it's one of those things that's very simple to explain. Simmer some ripe berries with sugar and a little water for 10 minutes, until saucy.
While that simmers, slice your brioche or challah into 1 inch thick slices; lightly butter each side and sprinkle with a little cinnamon/sugar. Once the sauce is done, spoon onto a springform pan that has been fully lined with saran wrap.
Squish the bread in, then layer more fruit, then more bread, then more fruit. Three layers get wrapped over with the saran wrap and weighed down so the bread stays saturated with one or two plates. Refrigerate for 2-24 hours and serve with lightly sweetened whipped cream.
It was a very, very, very good summer. We certainly got the most out of it. Now it's fall and time to excited about boots and pumpkin flavored anything and red wine and eating soup. Happy first day.