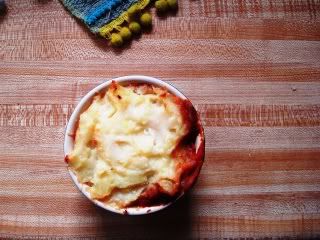 An actual thought process that I had today went something like this: "wait, what's the difference between sheep and lambs anyways?" and then I mentally pictured that query on an iphone commercial for that siri thing. This train of thought proves two things: 1. The Rise of the Machines is upon us; and, 2. I have been watching too much TV, because I'm officially an idiot.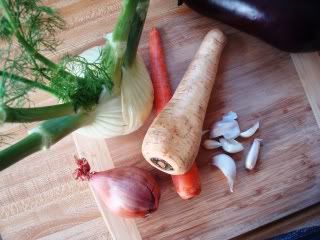 But ANYWAYS, I was thinking about sheep, lambs and the differences between them (spoiler alert: lambs are baby sheep) because I was thinking about shepherd's pie and it occurred to me that shepard's pie is kind of a messed up thing. They spend their entire career hearding and protecting the animals and then they
eat them in a pie covered with mashed potatoes?
And here I thought hedge fund managers were the most cold hearted career out there.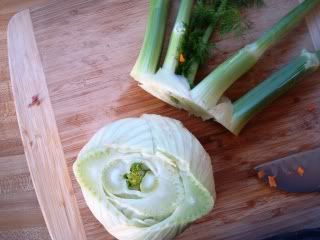 A while back I was having dinner at James Gate in Jamaica Plain and they had on their menu a "Vegetarian Shepard's Pie." It was surprisingly good, the filling mostly consisting of eggplant, tomatoes and loads of roasted garlic. This past Sunday I decided to take a crack at making my version of said dish, and it came out pretty tasty, if I do say so myself. And we didn't even have to kill anything, unless you count carrots, but really who does?
SLOW SIMMERED VEGETABLE PIE with POTATO PARSNIP MASH

One large onion, diced
One shallot, minced
One large carrot, peeled and diced
One bulb of fennel, peeled, cored and diced
One eggplant, peeled and diced
8 cloves garlic, divided, half minced, the other half peeled with cloves left whole
Olive oil
2 tbs. tomato paste
1 tbs. flour
1 large can or package diced tomatoes
½ - 1 cup vegetable or chicken stock
Salt, pepper
Pinch oregano
Pinch crushed red pepper
Pinch sugar, to taste
4 large Yukon Gold potatoes, peeled and diced
1 large parsnip, peeled and diced
Butter
Half and half
Grated cheese: parmesan, cheddar or a mix of the two (about 1 cup)
Heat a generous drizzle of oil and a small pat of butter in a large pan or Dutch oven over medium heat. Add the onion, shallot and carrot to the pan and sauté, stirring occasionally until translucent and fragrant (a few minutes) add the fennel and cook the veggies until slightly caramelized, about 10 minutes. Add the minced garlic, stir together, reducing the heat slightly if it's too hot and let cook another 5 minutes.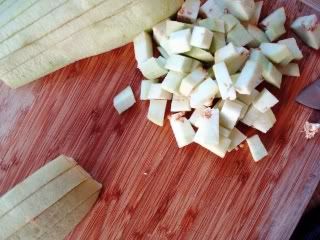 Add tomato paste and flour to the pan, combining completely, stirring constantly; then add the diced eggplant and then the container of diced tomatoes with their juices and the veggie stock. Season the pot with plenty of kosher salt, lots of cracked pepper, oregano and red pepper. Taste. If necessary, add a pinch of sugar (whenever I cook with unseasoned tomatoes I find it needs it). Bring to a boil and let reduce a bit; for a few minutes. Reduce heat to low, nestle the whole garlic cloves in the mixture and let cook, covered and largely unattended for almost an hour.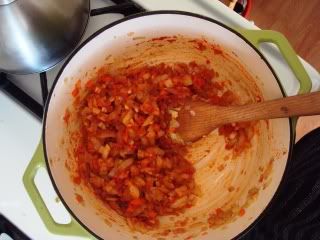 Preheat your oven to 375. Place potatoes and parsnips in a large pot covered with water and set to boil. Let cook until tender when pricked with a fork or knife. Drain the water off and return to the pot, adding a generous pat of butter and a splash of half and half, along with salt and pepper. Mash potatoes and parsnips to your desired consistency, adding another splash of half and half if they are dry. Since the mash will go on top of the stewed vegetables, it is okay if your potatoes and parsnip lean towards the drier side.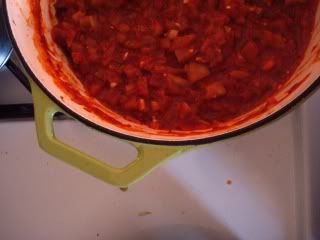 Transfer the eggplant tomato mixture to a large baking dish and spoon the potatoes and parsnips on top. Sprinkle with grated cheese and set to bake in the oven for about 20-30 minutes, or until the pie is bubbling and the cheeses have started to brown.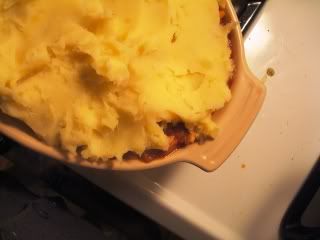 Serve with a big green salad, maybe some crusty bread and nothing else. This is a dish that eats like a meal. Perfect for a Sunday supper.