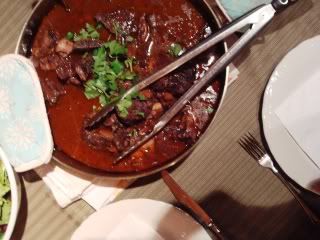 A whole meal of food. That's what I've got in store for you today. Are you excited? There is also meat involved, which is a rare thing at Dickens HQ these days. See, we've decided to be "mostly vegetarian" which means we mostly eat vegetarian (and sometimes fish) most all of the time. It's going swimmingly because we're pretty committed, but we're also not inflexible with it. Like if I come to your house and you're serving meatballs, I'm not going to refuse the plate. They are after all, my
spirit food
.
Likewise, when this past Sunday came around and I volunteered to make dinner for my whole family in celebration of my dad's birthday, I wasn't going to make them quinoa and eggplant. My brother hasn't laid a hand on me in decades, but I think if I tried to pull some bullsh!t like that he'd slap the taste out my mouth. Plus my dad, in addition to being a
living legend
and friends with
dudes named Space
, is at his core a man's man and there's one thing you make a special man's man on their special day: BEEF. All capitals, that's right.
A few years ago my friend Adam made me some braised short ribs for dinner. I don't know that it was the first time I ever ate them, but it was the first time I remembered them. While I was drinking the juices out of the bowl, I had him run down his technique for me. It didn't seem too complex. Mostly hands off, slow and low, whole bottle of wine, things I could get into. I took his blue print and cross referenced it against recipes by Tom Colicchio and the Pioneer Woman to come up with what I did here.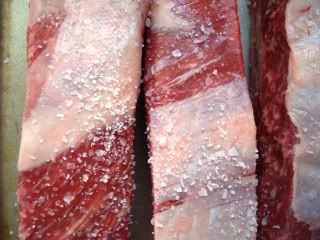 RED WINE BRAISED SHORT RIBS
with PARMESAN MASHED POTATOES and ROASTED BABY VEG
Red Wine Braised Short Ribs:
(serves 6, I doubled this to serve 12)
5 lbs. beef short ribs, cut in half into approx. 2" sections
Kosher salt
Black pepper
3 tbs. vegetable oil
2 medium carrots, peeled and diced
1 medium onion, peeled and diced
2 large or 3 small shallots, peeled and minced
3 tbs. all purpose flour
1 tbs. tomato paste
1 750mL bottle of dry red wine (Cabernet is perfect)
1 head garlic, cut in half crosswise
4 sprigs fresh thyme
Scant tablespoon dried oregano
2 cups lower sodium beef stock
Optional garnish: chopped flat leaf parsley
Generously salt and pepper short ribs on each side. Heat vegetable oil in a Dutch oven, or a large braising pan (with an oven-proof cover) over medium-high heat. Working in batches, brown the short ribs on all sides and set aside onto a plate or cookie sheet (takes about 8 minutes per batch). Add onion, carrot and shallots to the pan and sauté together until fragrant and the onions begin to brown (about 5 minutes). Add tomato paste and sprinkle flour into the pan, stirring constantly until well combined.
Return the ribs to the pan and pour in the whole bottle of wine. I used a Chilean Cabernet: Viu Manet. Nice and inexpensive but a totally decent Cab. with good flavor for cooking. Bring the pot up to a boil and then reduce heat and let simmer for 25 minutes, until wine has reduced by half. At some point during this process, preheat your oven to 350.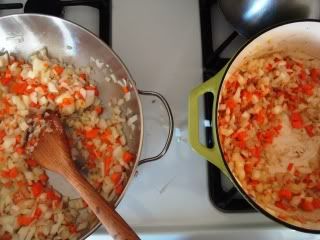 Nestle the split head of garlic, the sprigs of thymes and oregano into the pot and then cover with beef stock. Clamp the lid on and transfer the whole pot into the preheated oven. Let bake at 350 for 2 ½ hours.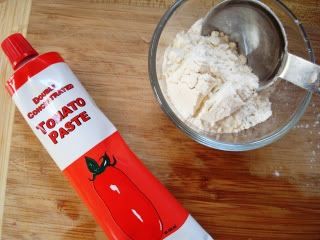 Parmesan Mashed Potatoes
(serves 11, just barely, use less of everything for a smaller batch)
1 bag russet potatoes
Butter
Salt
Pepper
Half and half
Grated parmesan cheese
Scrub, peel and chop potatoes. Place into a large pot and top with cold water. Place on a burner and bring to a boil. Let boil until potatoes are tender, then drain the water off and return the potatoes to a pot. Add 2 generous pats of butter, a splash of half and half, some salt, pepper and a handful of grated parmesan. Mash completely, taste test and add more butter, cheese, salt and pepper to taste. If the mashed potatoes are dry, splash in small increments of half and half until they reach your desired consistency.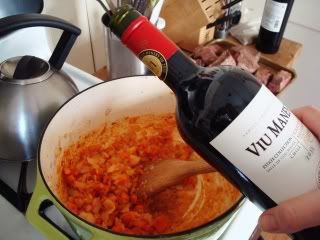 Roasted Baby Veg.*
Baby carrots
Cippolini onions
Olive oil
Salt
Pepper
Optional: aged Balsamic vinegar
*I like to abbreviate the word vegetable to "veg" and when I do so I say it in a British accent. Paul was on a business trip in England once and this dude was talking about vegetable tempura in his distinct accent and kept saying "Battered Veg" in a very dramatic way. Paul shared the story with me and now it's stuck itself inside my brain. I live like this on a daily basis.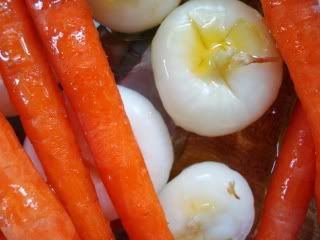 Scrub the dirt off your baby carrots and run a peeler over them once just to clean them up a bit. Chop off the greens, leaving just a bit so that you still get that cute, Bugs Bunny effect on the carrots. Set aside. To peel the Cippolini onions: heat a pot of water to boil on the stove and while it's warming cut a small X in the top of each onion (not the root end). Once the water's boiling, toss the onions in, for just about thirty seconds and then take them out and give them a quick run under cold water. The peels will now just slide right off; trim off the root end and they are ready to roll.
Toss the prepared vegetables in a baking dish with a generous drizzle of olive oil, a sprinkle of salt and pepper, and if you've got some, a drizzle of aged balsamic. Roast in a 400 degree oven for 40 minutes.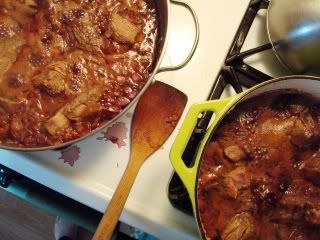 If you're cooking this meal all at once: roast your vegetables with the ribs, for the last hour or so of cooking. During the last half hour or cooking, make your mashed potatoes. When the ribs are ready, remove the pan from the oven and use a spoon to skim excess accumulated fat from the top of the pot. If you don't like chunky gravy, you can set the ribs aside, filter the juices through a sieve and then cook the pan juices down a bit in a skillet, before then adding the short ribs. But I really don't think you even need this extra step at all.
To serve: fill a large, shallow bowl or lidded plate with a scoop of mashed potatoes, top with a few short ribs and a big ladle full of the accumulated juices. Garnish with a touch of parsley and toss the veggies on the side. Bingo bango, birthday party.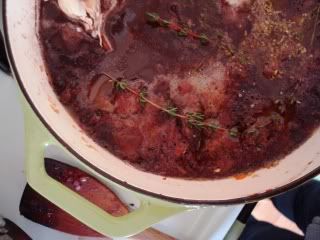 Simplify and serve these short ribs with a green salad and lots of crusty bread for soaking up the juices. This meal seems like it's a lot of work, but I can tell you, if you're cooking for a normal amount of people (say 4, 6) it's really no big deal. I was cooking for 11, so I made a double batch. It was a decent amount of work but I enjoyed it. These short ribs are soooo delicious and impressive and almost impossible to screw up. Perfect dinner party fare that can finish cooking with no effort by you while you entertain your guests and serve cocktails and appetizers.