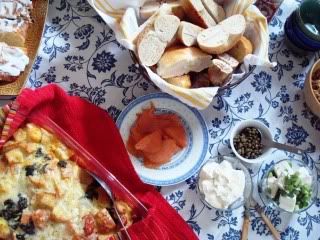 I feel like I have been sorely lacking in the domestic department lately. My kitchen has, at best, been used to make coffee and toast in and to serve as a makeshift office for when I sit down to organize my life a bit, upload some photos or chip out a blog. The past two months have cruised by with such a disturbing speed, I'm worried that I may wake up tomorrow and it will be August and I'll have not gone to the beach, finished wedding stuff or cooked a proper dinner all summer long.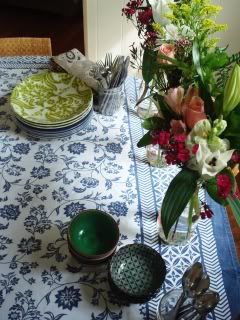 And if I'm not cooking for us, then I'm certainly not hosting much at all. Which is why, despite the fact that I worked all weekend, I was super pumped to host Mother's Day Brunch. I don't like doing dishes, but I really, really like being able to set the table and artfully arrange platters and bowls and tiny spoons (you would not believe how many tiny spoons I own it's sickening). It gives me a sense of satisfaction. Some people may stress when hosting family or friends for a meal, I get high off of it. I could huff it all day long.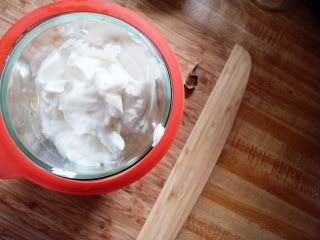 I'll admit I cheated a lot. I kept it simple as possible and pretty much bought everything at the store. The only thing "homemade" I did was the main course, which was a strata I made the night before and simply baked while everyone was arriving. Other than that, it was pretty much putting things on plates. It was secretly so easy I kind of felt like the one grandmother in 16 candles who helps to put out breakfast by opening the donuts with a steak knife, while she has a large Virginia Slim dangling from her mouth.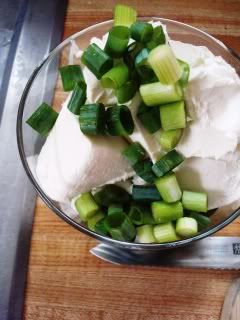 If you look closely at these photos you'll notice: granola (packaged), Greek yogurt (thank you Fage), fresh berries (on sale), bagels (bought), smoked salmon (the big splurge), scallion cream cheese (made quite literally by slicing some scallions on a package of Philly), some capers (had 'em). The pastries and donuts were contributed by Paul's brother and seriously, the only thing I made was the egg dish. And that took about 20 minutes of active labor. Would you believe that this was brunch for 8 adults, 2 kids, with leftovers and it cost 100 bucks (including mimosas!)? I think that's pretty good. Could you help me pat myself on the back? I can't quite reach. Here's how to make the main dish. Toss this one in your back pocket and pull it out when you want to host but don't want to break a sweat.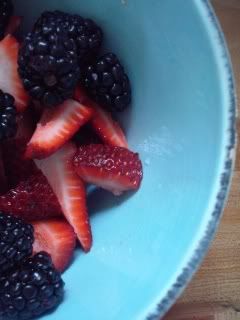 ROASTED TOMATO, SPINACH and CHEDDAR STRATA
½- ¾ loaf ciabatta bread, cubed
1 package cherry or plum tomatoes
2 bags baby spinach
10 eggs
1 ½ cups milk
1 ½ tsp. Dijon mustard
1- 1 ½ cups shredded cheddar cheese
Butter
Olive Oil
Salt and pepper
Heat oven to 400 degrees and set tomatoes in a small baking dish with a drizzle of olive oil, some salt and pepper. Grease a large baking dish with a bit of butter so your strata doesn't stick to the sides and bottom.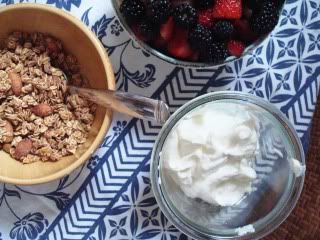 Let the tomatoes roast until blistered and almost caramelized (about 40 minutes). Cube ciabatta bread and set into prepared baking dish. Sauté spinach with a tiny bit of olive oil just to wilt. Spoon the tomatoes and some of their juices, along with the spinach, evenly over the bread cubes; toss about 2/3 of the shredded cheese on top. In a large bowl whisk together the eggs, milk and mustard; add salt and pepper. Pour the egg mixture over the bread, veggies and cheese, sprinkling the remainder of the cheese on top. Hit with a pinch of salt and a few turns of pepper, cover and refrigerate for several hours, preferably overnight.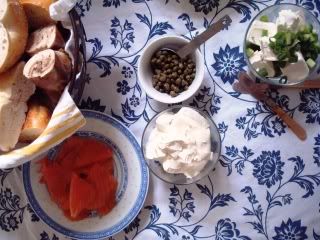 In the morning, remove the strata from the oven and let it come up to room temperature. Heat oven to 350 degrees (I went with 360 because my oven runs cool). Bake for 40 minutes, until set and the cheese on top is bubbly and golden. Turn oven off and let the strata sit in the warm oven for an additional 10 minutes before serving. This will make it more cohesive and easier to slice and serve. Enjoy immediately. Yields: 10 servings. P.S. this would be amazing if you added crumbled bacon to it, but really, what wouldn't be?