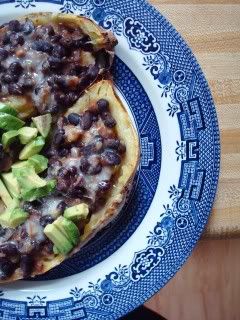 A few, well, several years ago a girlfriend of mine was living in London for a spell. Despite the fact we didn't know each other all that well, I decided to head on over for a visit. By the time I left 10 days later I had a deep running love for strong draft beers (well okay I already liked those), a lifelong friend and a fresh knowledge about the amazingness that is a Jacket Potato.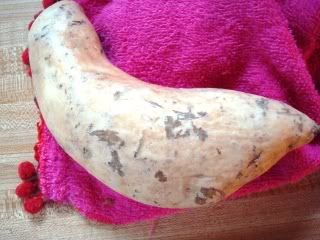 Courtney and I spent a cool, drizzle-filled Saturday drinking pints at every bar from the Southern shore of the Thames back up to her apartment, excuse me, flat in Swiss Cottage. I'm quite sure, in the way that happens naturally when you share several beers and 12 hours of walking and talking, that we covered every secret, scandal and funny story that either of us had ever experienced in our whole lives up until that point. It was, an epically good day and we still talk about it even this week, as we email back and forth about the design of my wedding invitations.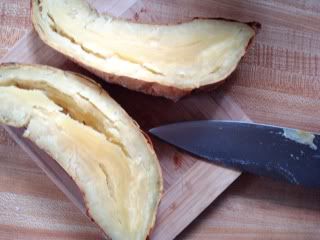 On that particular pub crawl, or maybe on one of the others, she ordered a Jacket Potato. Aside from having a completely adorable name (say "jacket" in your head in a British accent I dare you), Jacket Potatos are a pub menu staple for good reason. They are super satisfying and delicious, in addition to being inexpensive and easy. And it probably doesn't hurt that they are the perfect ground layer for a couple of Chimays or curiously strong Stellas.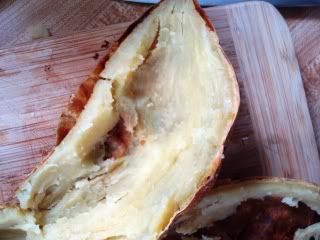 I brought home a few white flesh sweet potatoes the other day, and I just so happened to have some cooked black beans, so I came up with this slant on a Jacket Potato. I can't believe it took me this many years to recreate this! It was a delicious and filling lunch, which came together easily and was the perfect match for a rainy Tuesday afternoon. It wasn't a pub crawl through 20 miles of London's cutest pubs with an amigo, but for now it would have to do until we can get back over there.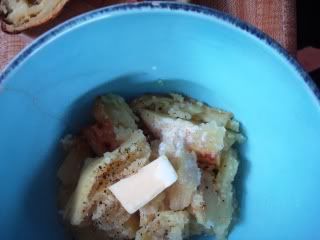 JACKET SWEET POTATO
(serves 1 generously)
1 white flesh sweet potato
1/2 can cooked black beans, rinsed and drained
1/2 tsp. butter
Splash milk or half and half
Salt and pepper
Shredded Cheddar or Jack cheese
Diced avocado (optional)
Hot sauce (optional)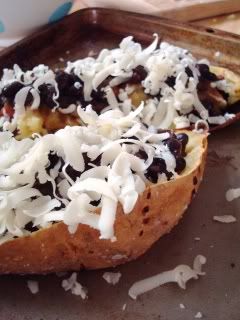 Rub olive oil and kosher salt on the skin of your potato and bake until tender at 400 degrees (almost an hour in my case). Let cool a bit and slice lengthwise in half. Scoop out the flesh into a small bowl, leaving just a little border of potato next to the skin for stabilty. Preheat your broiler. Mash the flesh from your potato with the butter, milk or half and half and a sprinkle of salt and pepper. You can stir in some shredded cheese here as well, if you'd like, or save it all for the top. Return the mashed potato filling to the skins, top with a few spoonfuls of black beans and shredded cheese. Broil until the cheese is melted and bubbling. Top with diced avocado, hot sauce and more salt and pepper.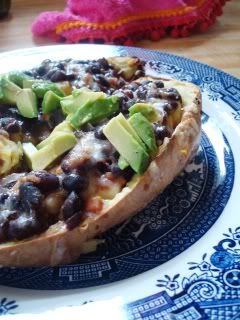 Any old potato and filling would do...in case you haven't caught on by now a Jacket Potato is just like a twice baked potato, only bulked up into a whole meal. Plus, Jacket Potato just sounds nicer to me than twice baked. Feel free to get creative. Baked beans and cheddar would be amazing or sauteed spinach and tomatoes with grated parmesan and feta. Sweet potatoes needn't be used, it just so happened to be what I had on hand. If I was using a standard potato, I would go with Russets.