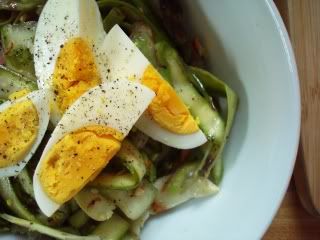 I woke up yesterday morning with an insatiable urge to listen to some Outkast. I couldn't tell you the last time that happened, but like most things that I know will be good for me, I gave in to the urge. Spring is in the air in a major way and I guess that put the need for a little Stankonia before 9 a.m. It has been a damp, chilly week but there are green leaves on all the trees and pollen and tiny white flowers are all up on my windshield.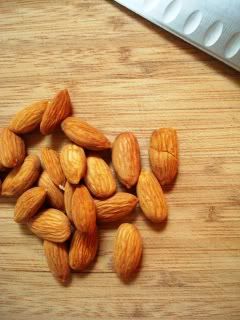 There are many delicious spring foods, but asparagus ranks way up there for me. Right now, the asparagus is so fresh and so good that you barely have to do anything to it. My usual go-to prep for these skinny green guys is to toss them in a baking dish with some olive oil and minced garlic and roast 'em at 400. However, around this time last year this particular salad, or some version of it was all over the food blogs. I tucked it into the part of my brain devoted to food memory (incidentally the largest and most active part of my cranium) and the other day when the asparagus were looking real good I dusted it off and took it for a test run. It's truly refreshing and completely pretty. You couldn't ask for a better dish to have a little spring fling with.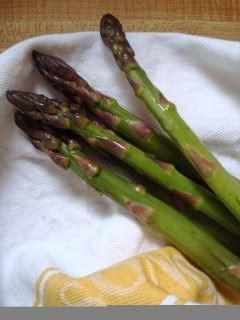 SHAVED ASPARAGUS SALAD
1 lb. asparagus
1/4 cup chopped almonds
Juice from one lemon
Olive oil
Parmesan cheese
Salt and Pepper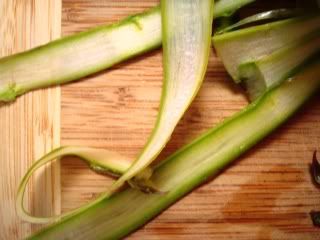 Heat oven to 350 and toast your almonds for 10-15 minutes, until fragrant; set aside. You will need a sharp vegetable peeler to make the asparagus "ribbons." The easiest way to shave them is to set one stalk at a time on your cutting board and hold it with your non-dominant hand by the root end (the part you would normally trim or snap off).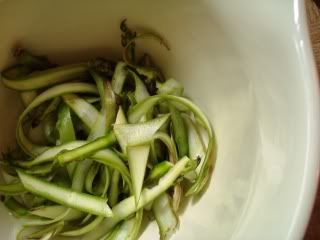 With the stalk properly anchored, run the peeler upwards towards the tip. It will take a little trial and error until you get the hang of it, but fortunately the little bits that fly off are still plenty delicious, if not quite as pretty as the perfectly shaved ribbons.
Gather the ribbons into a bowl and dress with the lemon juice and a drizzle of olive oil. Season to taste with salt and pepper and then add in the toasted almonds. Shave in some Parmesan cheese (using the vegetable peeler as well) and toss together. Serve immediately. I made this into a full meal of food by adding a quartered hard boiled egg on top.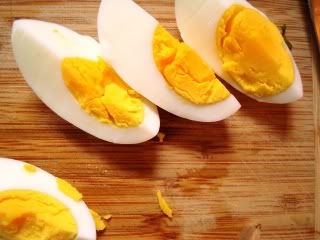 True story: this is the first time in my life I have eaten a hard boiled egg on purpose. It was decent but I'm not 100% on board yet. Anyways, it's a terrific fresh salad, great on its own or along side fish or chicken to round out the meal.