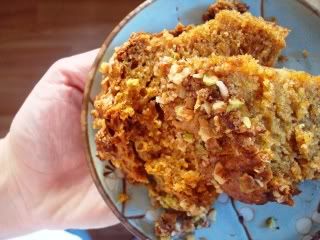 Pumpkin bread owns a serious corner of my sense memory. You see I grew up in the woods. About 200 feet off the street and our property abutted a nature preserve with trails and bridges built by local boyscout troops. In the afternoon- and all day on weekends- we were expected to head outside and not show our runny noses around the house until we were screamed inside for dinner. My mother had a yell that could cut through two miles of thick wooded area- this still remains one of her strengths; though these days with her kids fully grown she mostly uses her booming voice for super loud "woo hoos!!!" at dinner parties when the Chardonnay is flowing freely.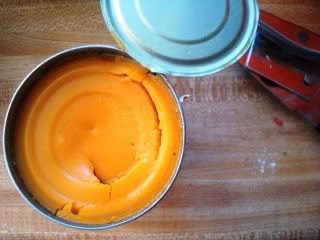 Even in the winter we would trek out to the woods and "ice skate" (slide on our shoes because we could never find matching skates) on the "ponds" (flooded swamps) and we would build jumps for our sleds and fire ourselves off of them. We'd play until we got sweaty under our winter coats, or until one of us (me) got the wind knocked out of them and started crying. When I would sniffle my pathetic way back in the back door the kitchen, I'd often be greeted by wafts of dinner cooking on the stove and the tantalizing scent of freshly baked pumpkin bread. My mom always went on a tear of pumpkin bread baking every fall that would hold out through Christmas. She would give away loaves as Christmas gifts to neighbors. Even though most of our neighbors kind of hated us because every now and then my dad would burn a bunch of old crap and couch cushions in a rusted out oil tank in our side yard for kicks on a Sunday afternoon. Couch cushions FYI, can really crank up the flames.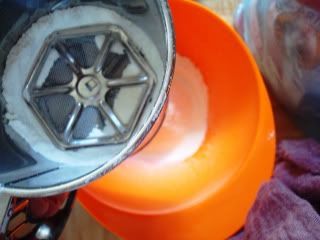 But anyways, fire ordinance violations aside, fall at the old Pithie abode always meant the scent of burning leaves (and couches) in cold air, beef stew with ketchup for dinner and big fat slices of delicious homemade pumpkin bread. When I made this bread the other day I felt connected to my youth. And also impressed with my mom's cleverness- pumpkin bread is hella easy to make. No wonder that was the loaf she chose to crank out in mass quantities. Who has time for painstaking artisan breads when you can make a sweet and tasty quick bread that almost everyone loves? This is the classic recipe amped up just a bit by a tasty brown sugar and nut crumble on top. It adds texture and flavor and will make you want to eat every slice from the bottom up, like I've been doing for the past few days.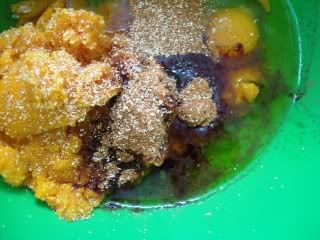 CLASSIC PUMPKIN BREAD
with WALNUT PISTACHIO CRUMBLE
(adapted, just barely from
this recipe
)
1 ½ cups flour
½ tsp. of salt
1 cup sugar
1 teaspoon baking soda
1 cup pumpkin purée
½ cup olive oil
2 eggs, beaten
¼ cup water
½ tsp. nutmeg
½ tsp. cinnamon
½ tsp. pumpkin pie spice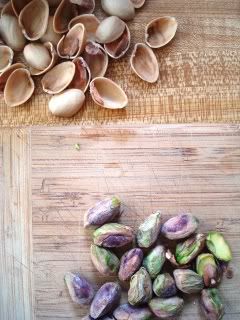 Heat oven to 350. In a medium-sized bowl, sift together the flour, salt, sugar and baking soda. In a large bowl mix together pumpkin, oil, eggs, water and spices. Mix together thoroughly to combine. Add the dry ingredients in three batches, stirring together to combine between. Stop mixing when it's just mixed- you don't have to whip it to death. This also comes together so easily, you can keep the hand mixer out of the situation all together and whip it up with a wooden spoon, just like mom used to do.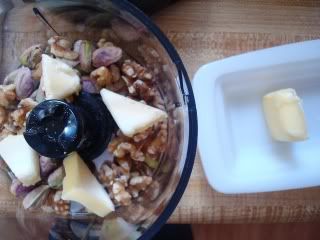 CRUMBLE TOPPING:
¼ cup walnuts
¼ shelled pistachios, or pepitas
2 tbs. butter
2 tbs. brown sugar
½ tsp. cinnamon
½ tsp. pumpkin pie spice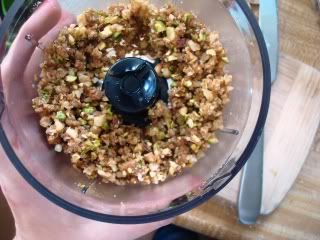 Place all topping ingredients into a small food processor and pulse until chopped coarsely and combined together. You still want the textural crunch of the nuts, but want the butter and brown sugar to combine. This topping is optional, but only if you're a fool that doesn't like delicious things to be more delicious by the addition of scrumptious toppings.
Pour mix into a buttered loaf pan. Top with Crumble Topping and bake for 50-60 minutes, until a knife poked into the center of the loaf comes out clean. Remove from oven and let cool completely before cutting into and eating. I know, I know, it's hard to do that. You want to get right in there and slice a piece out while it's still warm- but trust me. Something about pumpkin bread flavor isn't all that when it's hot. The first slice I ate while the bread was still warm and I thought it was okay. The second slice I ate when it was completely cooled and the flavors were transcendent. The bread was sweet and pumpkin-y and the topping was crunchy and just a little buttery. How many slices do you think it's acceptable to eat in one day? Right now I am at three.