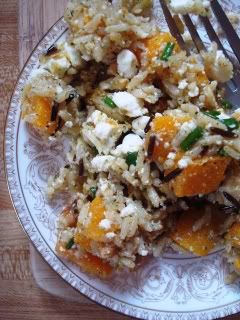 Well, at some point while I was getting myself hitched up fall came. And you know what that means in these here parts. No not just
reveling in pumpkin spice coffee
or filling every corner of the house with
decorative gourds
(thanks for the laughs, Jill); but it means some orange food up in this piece. What can I say? It's seasonally appropriate. And my orange food of choice is none other than butternut squash. I like to chop it up into
curries
, add it to any
fall soup
, use a thick puree as a
sort of sauce
. It works well and tastes good and today, I've folded it into a little bit of a salad. With
wiiiild
rice. Let's get to it.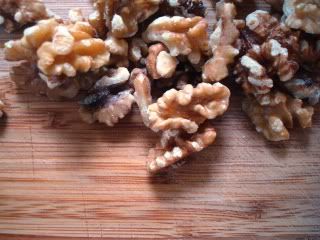 ROASTED BUTTERNUT SQUASH and WILD RICE SALAD
½ butternut squash, peeled and cubed into ½ inch dice
1 package wild rice, prepared according to package directions, *omit the spice packet
1 bunch chives, minced
Crumbled feta or shaved Parmesan cheese
¼ c. toasted walnuts, chopped
DRESSING
Olive oil
Red wine vinegar
3 cloves garlic, minced
¼ tsp. Dijon mustard
½ tsp. honey
Salt and pepper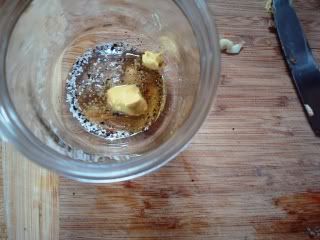 Preheat oven to 400. Peel and slice butternut squash into a bite-sized dice. Toss squash on a cookie sheet with a small drizzle of olive oil and a pinch of salt and pepper. Set to roast in the oven for about 25-30 minutes, until cooked through; turning once or twice. While the squash roasts, make wild rice and prepare dressing. I used a box of wild rice from the store, but if you're preparing yours from a large bag, make 1 cup of rice- this will yield about 2 cups once cooked.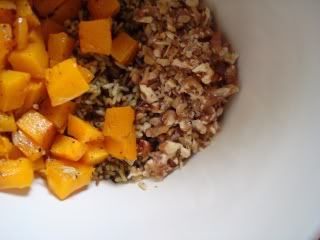 I made a bit of a mistake here and used the "spice packet" from my boxed rice. I went against my better judgment and did it anyways and now I have learned, yet again, to trust my instincts when it comes to packaged food (aka: don't trust 'em!). The resulting rice was too salty- making the whole finished dish just a little "off." Still edible for sure, but if I had to do it over, I would omit the seasoning and season the finished salad myself with salt and pepper to taste. Or maybe, I would add some crumbled cooked pancetta or bacon to add salt. Dang man, hindsight is always 20/20.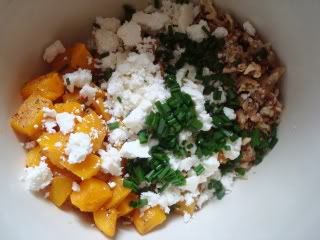 While the rice cooks, toast walnuts in a small skillet over low heat, until fragrant. Season with salt and coarsely chop. Mince chives and set aside. To make the dressing, combine red wine vinegar, Dijon, honey, salt and pepper in a large jar or blender. Heat a small skillet with about 3-4 tablespoons of olive oil over medium-low heat. Mince garlic cloves and add to oil, let cook until fragrant (just about a minute or two) and then set the oil aside to cool a bit. Add garlic in oil to blender or jar. Blend together thoroughly. If you're making this in a jar, I suggest using an immersion blender to emulsify. Taste dressing and adjust seasoning if necessary.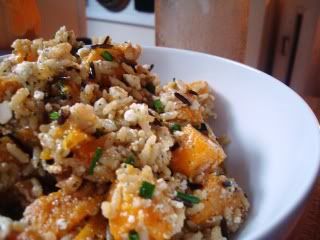 In a large bowl, combine 1 ½ cups cooked rice with butternut squash, top with crumbled feta or coarsely grated parmesan, whichever you prefer. I went with feta for this version, but I think parm. would be dynamite. Add chives and a generous drizzle of dressing. Toss together gently to coat. Serve warm or at room temperature. This salad would make a great side for grilled or roasted chicken, or fish, or even pork chops. I also simply spooned it onto spinach to bulk up my regular lunch salad and topped it with a poached egg. But next time, man, next time I'm skipping the Near East spice packet and adding some GD bacon, mark my words.