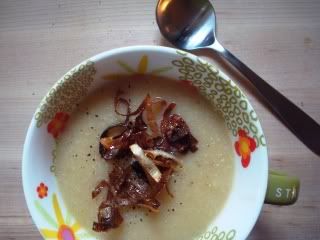 Well, here I am again, on the other side of the coin. I'm not prepared to or particularly inclined to write a big post about the wedding itself, the details, the dress, the vows or the sheer, palpable joy of it all. This is, after all, a blog about food, not weddings. But it is also a blog about me and my life and I can't just roll back up here makin' soup and act like I didn't just have the best day of my life, because: DUDES, I did.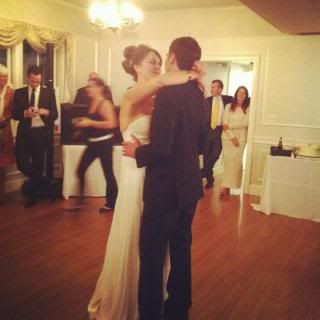 I think that part of the reason I'm hesitant to write about it is because in no way could I cobble together sentences that even remotely did it justice. I don't know how to describe how on your wedding day you feel calm and present and happy and more connected to your spouse than ever before, because maybe not everybody feels that way. But I'll count us as lucky because that's exactly how we felt.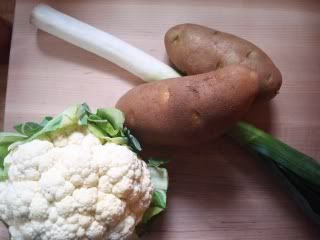 So now that we've taken the plunge and the big day is done, now that by the power vested in my brother by the Commonwealth of Massachusetts we have become, on the books, an US, maybe I can also get back to being me and not just a bride-to-be. Which is sort of great, because I really missed having spare time and I certainly missed doing the things that make me, me. Like actually having time to think about groceries, make a proper dinner and spend a rainy afternoon in early October making a creamy and delicious soup: it's good to be back.
CAULIFLOWER, POTATO, LEEK SOUP
with CRISPY FRIED LEEKS
1 head cauliflower, cored and roughly chopped
2 russet potatoes, peeled and diced
1 large leek, thinly sliced (white and light green part only)
2 cloves garlic, minced
2 (32 oz.) containers chicken or vegetable stock
2-3 tbs. olive oil 2 tbs. butter, divided A few whole pink peppercorns* (about 7-10)
Kosher salt
Pepper
1 tsp. red wine vinegar
*If you don't have pink peppercorns use just a few (4 or 5) whole black peppercorns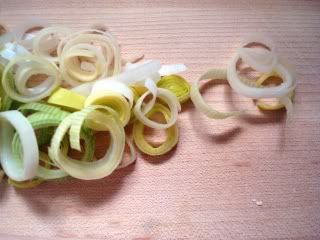 Heat olive oil and 1 tbs. butter in a large Dutch oven over medium heat. Sauté leeks in oil and butter until fragrant for about 5 minutes; add garlic and cook, stirring frequently for another minute or two. Add potatoes and cauliflower to pot, season with salt and pepper and cover with chicken stock- you will not use BOTH containers, rather, more like one and a half. Save the rest in the fridge for future use.
Raise heat to high and bring soup to a boil, then reduce to a simmer until cauliflower and potatoes are tender (about 15-20 minutes). Remove from burner and puree with an immersion blender. Alternately, if you don't have an immersion blender, let soup cool for a few minutes and puree in batches in a blender. Take caution: hot liquids expand so be careful! Return pureed soup to pot and turn heat on underneath to medium low. Taste and adjust seasonings: soup like this needs quite a bit of salt, at least for my taste buds, so really, don't be shy. Add red wine vinegar and remaining pat of butter and stir in completely. Taste again and adjust seasonings if necessary.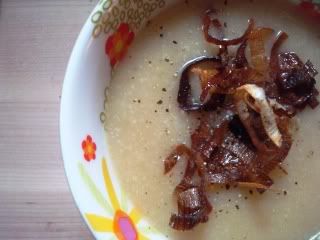 FOR CRISPY FRIED LEEKS:
These are a completely optional garnish and not really necessary. But before you ignore them entirely you should know this: crispy fried leeks taste like tiny, baby Funyons, and that is not at all a bad thing. If making, reserve a few raw leeks and separate the slices into little circles, like teeny, tiny onion rings (aww).
Heat about ½ inch of oil and 2 pats of butter in a small pan over medium high heat until very hot. Add leeks and let fry until golden brown, scoop out of oil and place on a paper towel to drain, sprinkle with salt. Garnish a cup or bowl of soup with a sprinkle of these little guys for texture. Be careful making these because you're essentially shallow frying them and working with a bunch of oil at high heat is always a little scary in a home kitchen (at least for me, but I am a
known wimp
).