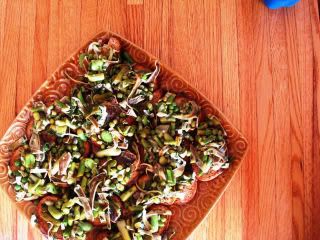 I think I can now safely say without the Fear of Seasonal Jinx, that spring has arrived in full bloom. Had I said this two weeks ago, we would have woken up the very next day to a snowstorm and I can't handle that kind of guilt on my shoulders. We were only in California for five days, but arriving home Tuesday morning, the landscape of our street had changed dramatically. Puffs of pink and white blooms adorned front yards; the brilliant green canopy that shadows our street, it seemed, was growing puffier and thicker by the hour. It was almost enough to stave off post vacation depression. Almost. Consider spring sprung.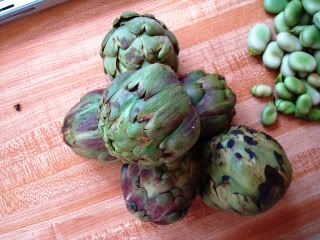 I have lately been having major food cravings for anything and everything that is bright green (geek). I was asked to contribute an appetizer to Easter supper and I found a recipe for spring vegetable bruschetta on Food & Wine's website that was pretty much exactly what I had in mind. All green all the time. A little healthy app. to whet our whistles without over stuffing us before the big Easter ham and scalloped potatoes throwdown.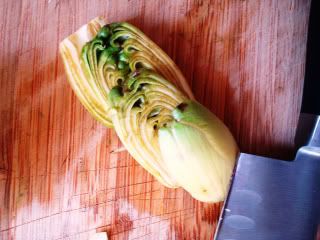 The recipe itself was a bit too fussy for my sensibilities and having followed it, I can honestly say that all the extra steps and specifications, aren't really worth it. I knew it could be easier and just as good. F&W directed me to steam the vegetables, one at a time in their own juices on low heat. The proper way to steam them, apparently, was to cut out a circle of parchment paper and press it down onto the vegetables, let them steam for three minutes, take the parchment off, add the next vegetable, steam for three, add the next and so on and so forth. Stupid, right? Right. But I did it nonetheless. Next time, I will stick with my first instincts. Also, I would definitely add cheese to the bruschetta toasts. I neglected to do this originally, but if I make this again I will most definitely incorporate some grated parmesan or crumbled goat cheese. Sure, it makes it slightly less healthy, but infinitely more awesome so…there's your answer to that.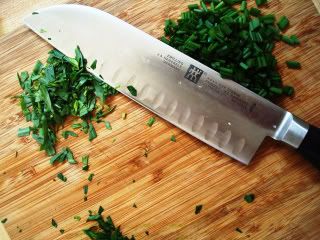 I was going to offer you the Food & Wine recipe here, in case everyone is more comfortable with following recipes to the letter; however, it's just too fussy and specific. I mean, they tell you to
remove the crusts
from your toasts. What is this? Second grade? What's so wrong with crusts? I feel like the formula for bruschetta should be as simple as this: TOPPING+TOASTS=YUM. So, if you're interested in a bunch of unnecessary extra steps, the original recipe can be found
here
. If you want to walk on the wild side, come along with Porky.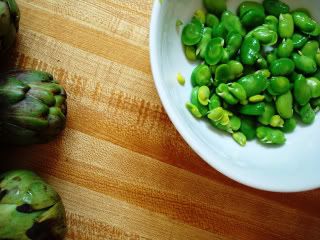 BRUSCHETTA of SPRING VEGETABLES
(from Food & Wine)
6 baby artichokes (about 1 pound)
1 lemon
1 cup shelled fresh fava beans (from 1 pound in the pod)
6 tablespoons extra-virgin olive oil, plus more for brushing
4 medium garlic cloves, thinly sliced
1 small shallot, minced
½ bunch medium asparagus cut on the diagonal into 1/2-inch lengths
½ scallions, chopped
1 cup frozen petite peas
1 tablespoon chopped flat-leaf parsley
½ tablespoon finely chopped chives
½ teaspoon finely chopped tarragon
1 baguette sourdough bread, cut into ½ thick slices (I used a whole wheat sourdough)
Preheat your oven to 375 and set a large pot of water to boil. Remove the outer leaves from the artichokes until you reach the inner yellow leaves. Using a paring knife, trim off the stems and any dark spots from the artichoke bottoms. Rub with lemon, and then slice the artichokes lengthwise. Squeeze the lemon juice over and toss together.
Prepare an ice bath (ice and some water). Shell your fava beans, then blanch the inner pods in the boiling water for only about 15 seconds; remove the beans from the boiling water into the ice bath. At this point, I would also blanch your asparagus spears, just for a minute or two, until brilliant green, then transfer to ice bath as well to shock them into staying green. Drain and set aside the asparagus and the favas. At this point you will have to peel the outer shell (yes, there's two)* off the favas and set them aside once done.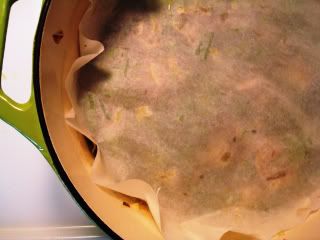 Once you are done blanching the favas and asparagi, I would make your toasts, especially if you are planning on serving the bruschetta right away. Brush both sides of toast with olive oil and bake until golden brown, about 4-5 minutes per side. Set aside toasts and turn on your broiler. When you are ready to serve, sprinkle grated parmesan, or goat cheese crumbles onto toast and broil for only a minute or so, keeping a close eye on them. You can do this
after
you have made your vegetable topping, because the veggies taste great warm, they don't need to be hot.
Alright, back to the veg. (I'm realizing my "short" version of this recipe is still long but there's no turning back now). Heat olive oil in a large, deep skillet over medium heat. Add the garlic and shallots and cook until fragrant, about three minutes; add artichokes and cook until just tender, about 3-5 minutes more. Next, add the asparagus, peas, favas and scallions, sautéing everything together until bright green. This will not take long. It's important that the vegetables be
just
cooked, so that they retain not only their nice bright color but also just a little bite, you just want to make sure the peas aren't still frozen! Season with plenty of salt and pepper to taste, add the herbs and remove from heat.
Pour the vegetables and their juices over your prepared toasts. Serve immediately. To make ahead (which I did) I simply cooked the vegetables and transferred them to a container to take with me; the toasts commuted along side in a Ziploc bag, so when I got there, all I had to do was assemble. If I was adding cheese and broiling, I would have done it on site just before serving. The whole dish still tasted great at room temperature when I served it an hour later.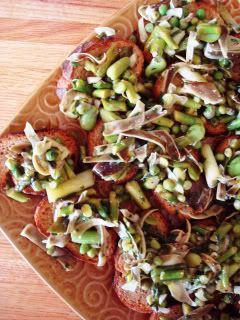 *this is why shelling fava beans is a big pain in the buns. What was Hannibal Lecter thinking?