My friend asked me to make her pizza, so I made her three. I like variety.
The first had a base of caramelized onion jam (it's to DIE for. My aunt made it for me), shredded cheddar and prosciutto. I topped the whole thing with a pile of arugula once it was done cooking. Yum.
The second kind was a sweet roasted/sun-dried tomato base topped with artichokes, mozzarella and parmesan. I had a half jar of roasted cherry tomatoes and a whole bag of sun-drieds, so what I did was dump the sun-drieds in the jar, add a little olive oil and pulsed it to a thick, deep red paste with my immersion blender. The inspiration for doing this was the base of Tomato Pie. Which, anyone who's been to a good Little Italy worth its shakes knows has a thick, almost tomato paste-like base and is simply topped with basil, maybe dried oregano and garlic powder. It was delicious. Rich and sweet with a little salty tang from the artichokes and parmesan.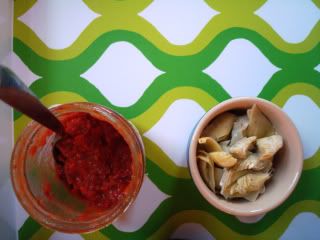 The third was a standard margarita. Tomato sauce, fresh mozzarella and lots of basil. If it ain't broke… my only issue with using fresh mozzarella on pies like this: is it purges so much liquid. I legitimately had to dip a paper towel on top to soak a bit of it up. This worked fine, but it leaves me to wonder, is there a better mozzarella that I should be using?
I decided to make the pizzas in a cast iron skillet because it's quick and fun and something about cooking pizza crust this way makes it puffy and chewy, but not too heavy. Nobody likes a lead belly when there's wine to be had (and dessert). If you want the directions on how to make skillet pies,
the directions are here
. Making three varieties of pizza that had to be put together relatively quickly gave me a good opportunity to do two things: use my cute new serving tray and create a boss looking mise en place.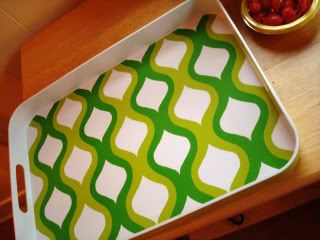 Lord, I love me a mise en place. I think I get this from my mom, who has never met a ramekin or nesting bowl that she doesn't like. While I was prepping dinner on this particular night, I thanked her for passing on this obsession to me. Because even with multiple stacks of tiny bowls used, I still had a stash in the cupboard.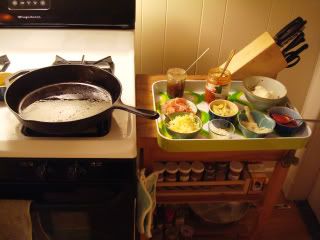 I have to say, at the risk of sounding like the World's Biggest Geek that I really like the urgency of grilling pizzas or making them in a skillet because I pretend a little tiny bit in my head that maybe I am on Top Chef.
Except the only difference is that I'm also wandering over to the table every few minutes to take a sip of wine and jam some cheese and crackers down my gullet. Also, I'm chatting non-stop with my friends the whole time. So I guess it's not THAT urgent.
But you know what; these pizzas come out real nice. We quite enjoyed them all. I think my favorite was the prosciutto one, but the artichoke pie was a close second. This is such a simple cheap way to host your friends for dinner.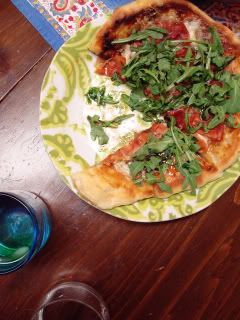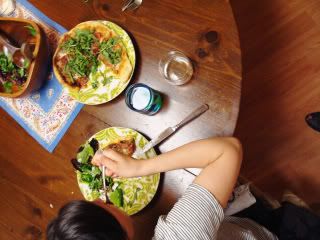 I think the only thing I had to purchase specifically was the dough, mozzarella and basil. In the future, I think I'll experiment with a dough that is more cracker-like, I think that would be delicious.
I have to also mention dessert, because it was like, next level. My amiga Aja made a goat cheese cheesecake which she served with passion fruit sorbet and pistachio brittle. Take a minute and let that sink in. It was really amazing. I only have crummy photos of the finished pizzas and dessert because by that time it was really dark in my kitchen and we were on our third bottle of Rose.