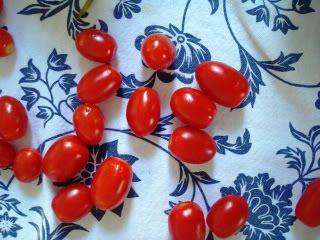 My relationship to gazpacho has been strained at times. When I was young and I first discovered it, I was obsessed. Then slowly, over time, I grew to dislike it quite a bit, I may have even claimed to hate it for a while there. Maybe I had some bad ones, I'm not sure. Ones that were too spicy and essentially felt like slurping on a bowl of Bloody Mary mix rather than a fresh to death bowl of summer bounty, which is what a bowl of gazpacho should rightly feel and taste like.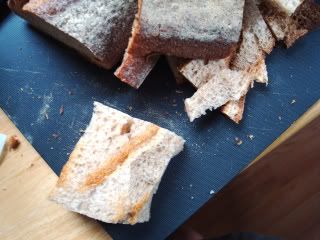 A few months ago my friends and I went out to the Brimfield Fair, which was seriously awesome. If you have a house to furnish or even just like looking around antique shops at all, you owe it to yourself to go at least once. It's like cool stuff overload. The thing is the Brimfield Fair is stupid huge and you need two days to even try and see it properly. And you are on your feet all day, shuffling slowly and staring left, right, left, right to take it all in (we dubbed it "the Brimfield Shuffle"). All that work means lunch is truly important and needs to not only satiate your appetite, but also give you a little fuel to keep on shuffling through a few more stalls; or at least provide you with the energy you need to walk back to your car with a footstool hoisted over your head, like I did on day one.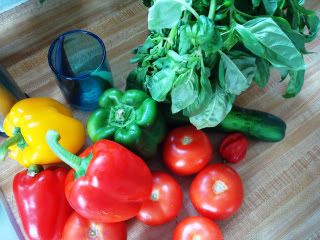 While there, both days, we had lunch from a food truck called the Bistro Box. And HOLY. COW. We could not have chosen better. Their menu was small, simple, straightforward and delicious. Not to mention that the prices were completely reasonable. On day one, I had a tomato and basil Panini and some orzo salad that was out of this world. On day two, at 10 in the morning, Val and I bought a fresh berry shortcake as a snack and it seriously was so good that we hid (yes, hid) from the rest of our friends until we had finished it so we didn't have to share. Proof: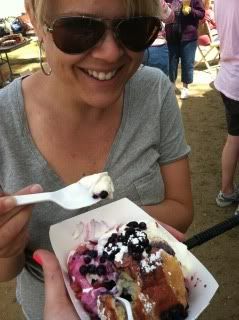 Later on, for lunch, I tried their gazpacho. And it was so good I haven't stopped thinking about it since. I begged, by way of their facebook page, for them to share the recipe. They promised they will post recipes "soon" but I'm sure that they're super busy making radical lunches for every county fair and flea market in the greater Berkshires area for the rest of the summer. So I searched on my own and found this Gazpacho Andaluz, which is a very traditionally Spanish preparation, if you omit the cumin and cayenne. It's very good, and somewhat creamy, thanks to the addition of pureed country bread that has been marinated in sherry vinegar, tomato juice and olive oil. It's not the Bistro Box, but until I get my hands on the real thing, this little import served me quite nicely.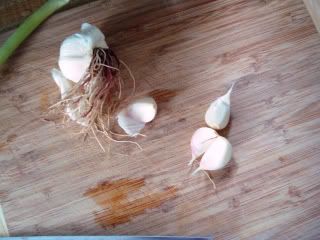 GAZPACHO ANDALUZ
(By Monika Kotus via thekitchn.com)
serves 4; easily doubles to feed a crowd
2 thick slices of day-old country bread, crusts removed and cut into small pieces
1 ½-2 lbs. ripest, sweetest most flavorful tomatoes, quartered
2 tablespoons aged sherry vinegar
½ cup extra-virgin olive oil
2 small garlic cloves, minced
pinch of ground cumin (optional)
pinch of cayenne pepper (optional)
sea salt
1 firm medium-sized cucumber, peeled, seeded and diced
1 small red (or yellow) bell pepper, cored, seeded and diced
1 small green bell pepper, cored, seeded and diced
½ small red or Spanish onion, peeled and chopped
½ cup bottled spring water (optional)
For Garnish:
Set aside small amounts of finely diced peppers, onion and cucumber.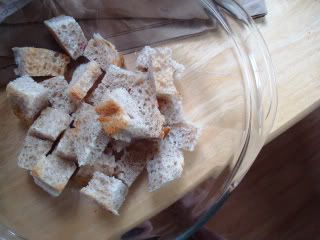 Remove the crust from bread and cut into small hunks; place in a large bowl and drizzle with some olive oil, one teaspoon of your sherry vinegar and the juice from one of your tomatoes. Be careful, when you squeeze a tomato, you really have no knowing what the juice squirts are going to end up (for me, it was the window sill, the countertop, and my tank top, as well as onto the bread). Mix the liquids into the bread well and let sit for at least ten minutes.
While your bread is saturating, get to chopping your vegetables. Since I was doubling the recipe, I used two small white onions and two red peppers, one yellow and one green because I feel as though two whole green peppers would overwhelm. I like the mellow nature of yellow peppers, as well as their pretty color, when it comes time to garnish.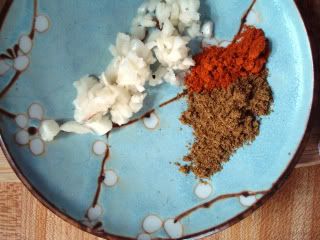 Once your ten minutes has passed, transfer the bread mixture to a food processor (or blender), add minced garlic, cumin and cayenne (if using) and process until very smooth. Add half the tomatoes, peppers, cukes and onion along with a generous pinch of salt and about ¼ cup of olive oil. Process until smooth and then transfer to a large bowl. Repeat with your remaining vegetables, in batches, adding generous drizzles of oil and big ole pinches of salt until everything is processed, adding each batch to your bowl. Drizzle in the remainder of your sherry vinegar, salt and pepper, and maybe a touch more olive oil.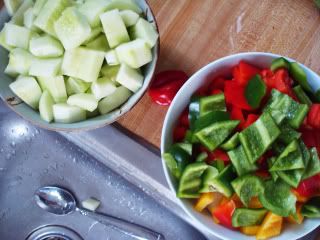 Taste and adjust as necessary. If your gazpacho is too thick, the original recipe called for bottled spring water to thin it out, but I didn't find that it was necessary. Chill for at least 3 hours before serving. Gazpacho, like most of its soup related brethren, gets better each day (within reason). I made this the day before and the next day it was delicious, but I think an extra day of chilling would have even made it better. It's such a great make-ahead appetizer to bring to a cook out. Easy to transport (I used a big drink jug) and a big hit with everybody. Not to mention that it's pretty healthy, especially compared to the standard carbohydrates and cattle cookout fare we see everywhere in the summer. When you're ready to serve, garnish each bowl with a little bit of diced onion, cucumber and pepper, and a tiny drizzle of good quality olive oil. Fresh, savory and delicious. It's good to be back together with gazpacho.