Don't cook. Not tonight and probably not for the next few nights. This is the kind of weather that begs for simple, fresh recipes, that are mostly just assembly and very little else. This salad, which I brought to 4th of July as a side dish, fits the bill quite nicely. The original directions call for you to briefly sauté the chickpeas in olive oil, which, according to the directions, makes them "creamy." I don't really know if that happened or not. I did cook them, but I think, given the heat index and humidity levels bearing down on us, that you could easily skip that step, make this salad without so much as breaking a sweat and enjoy it with some cold sandwiches, or some grilled protein. If you have central air conditioning and the idea of turning your stove on doesn't sound crazy, well then, keep the sautéing step and please do invite me over.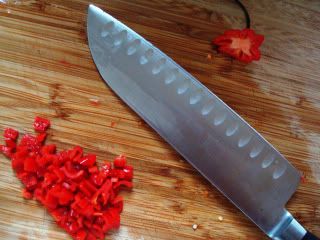 I was delighted with this salad. It seems very humble and I was a little worried that it would be a little too healthy and boring for my crowd, but it was terrific. My hope was that it would be a nice alternative to standard potato and pasta salads that grace every cookout buffet from Mem Day to September. I love the idea of substituting protein rich chickpeas for pasta or starch. It keeps the salad light, but still very satisfying. It's tangy and bright, with some nice heat from the red chili. This salad now has place in my summer anti-cooking arsenal. It comes together in about 10 minutes, improves in flavor if you make it the day prior to serving, and travels perfectly. It would be the perfect thing to bring to a beach picnic or your next cookout. Or, just to eat sitting in front of the air conditioner with your underwear on. Do what you've gotta do.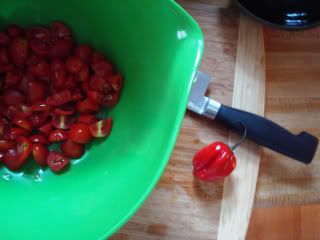 CHICKPEA SALAD with RED ONION, FETA and MINT
(this is a Jamie Oliver recipe, as found on Serious Eats)
1 small red onion, very thinly sliced
1 small fresh red chili, deseeded and minced
2-3 handfuls red or yellow cherry tomatoes, roughly chopped
Juice of 2-3 lemons
Extra virgin olive oil to taste
Sea salt and freshly ground black pepper to taste
2 cans of good quality chickpeas, drained and rinsed*
3 tablespoons fresh mint leaves, roughly torn or chopped
3 tablespoons fresh basil leaves, roughly torn or chopped
7 ounces feta cheese, crumbled
Combine the onion, chili, and tomatoes with their juice into a bowl. Dress with most of the lemon juice and olive oil to taste (you want a good amount of oil to counteract the zing of lemon); season with salt and pepper.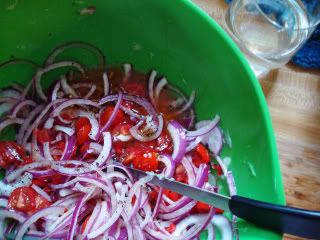 In a small skillet, drizzle a little olive oil over medium heat and add the chickpeas. Cook for a few minutes until hot and creamy and just beginning to color. Add them to the bowl and allow to marinate and cool. (If omitting this step, simply rinse well and drain your chickpeas). Once cooled, toss the herbs and season again to taste, adding any remaining lemon juice if needed. Serve with the feta cheese loosely crumbled on top. You can store this salad in the fridge until you are ready to eat. Because I was serving it the next day, I didn't add the basil and mint until I was ready to serve, because I didn't want the basil to turn black. You can serve cold or let come up to room temperature before serving.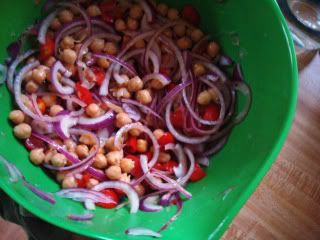 *they say "good quality" I used Trader Joes, I think they have a nice chickpea, although some canned brands are gross. The two brands I can whole heartedly endorse are Traders and Progresso.
**Also, for the love of god, wear latex gloves, or some kind of gloves when you cut hot peppers. I thought I would be "fine" because I am "careful" and for the rest of the evening after I made this, every time I touched my face, I would have a searing hot spot of burn for a while. Learn from the idiots in your life. I am one of them.