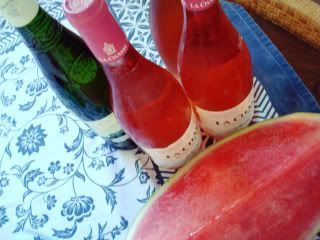 A friend of mine used to go to Red Sox games with his little nephew and when his nephew asked what kind of juice he was drinking (beer) he called it "Uncle Ted's Baseball Juice." Since I always got a kick out of that, this sangria is Auntie Jessie's Beach Juice, if I may borrow the phrase.
The only annoying thing about this sangria is that you have to pour your pureed watermelon through a fine mesh strainer. Oh, and the other annoying thing is that it tastes like juice but punches you in the drunk button like grain alcohol, so if you get annoyed by stuff like that, it might not be the drink for you. Personally, I think that's okay in certain circumstances, but you just wouldn't want to gun back a couple mugs of this if it was say, your new boyfriend's niece's birthday party and your debut to his extended family, stuff like that. If you, like me, were at a gathering with people who have known you since you were in diapers and withhold judgment on holiday indulgence, by all means, giddy up. OR, alternately, cut the punch with some cold seltzer water; I like to do that with most sangrias anyways.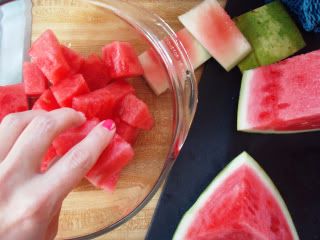 WATERMELON SANGRIA
2 lbs. seedless watermelon, peeled and cubed
1 bottle dry white wine or a light, dry rose
6 ounces vodka
4 ounces Cointreau or triple sec
Ice
2-4 oz. simple syrup (optional)
juice from lemon (optional)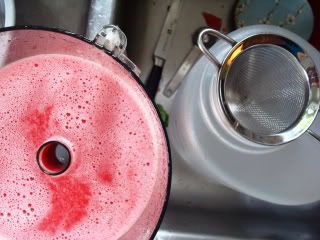 I found an original recipe for this on Food and Wine and it called for citrus infused simple syrup to be added, namely, as much simple syrup as Cointreau. This will make your drink waaaay too sweet, since watermelon itself adds plenty of sweetness. Fortunately, having my suspicions about the amount of simple syrup and having a general distaste for too-sweet cocktails, I taste tested after adding only half the syrup the recipe had called for. WAY too sweet. I cut the sweetness by squeezing the juice from a lemon and an orange into the sangria to dilute it with a little tart-ness.
In a blender or food processor, puree the watermelon (in batches, if necessary) until smooth. Pour through a fine mesh strainer into a pitcher. Add the wine, vodka, Cointreau (or triple sec) and the simple syrup, if using. Stir and refrigerate at least two hours, or even overnight. Pour over ice to serve, top off with soda water to add bubbles and dilute if it's too strong for your liking. I never got a good photo of individual glasses of this sweet nectar, because I was too busy taking pictures of my mom leading a parade of youngsters singing Grand Old Flag (true life). But, on ice, garnished with a slice of watermelon or wedge of lime, it's just as pretty as it tastes. Summertime in a glass. Just remember: NOT JUICE.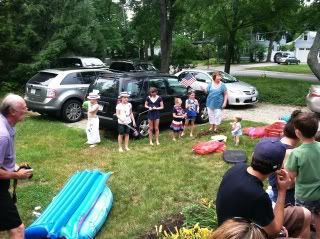 Also, in light of the photo above, I just wanted to add that today is my mom's birthday. I've gotten many things from my mom: my zest for appetizers, man sized tolerance for white wine and love for having fun; but most applicable here, this woman raised me to love the kitchen, and for that I thank her very much. Love you Piz. xoxoxo