The first time I cooked dinner for Paul I made cod wrapped in prosciutto. I thought it would read as impressive without being too labor intensive (I had to look cute and be able to flirt and cook at the same time). Last week, we sat down over pan seared pork chops and drafted the guest list to our wedding(!). This morning, I got up early to make him a prosciutto and pesto calzone for his work potluck lunch (like a total
wife
) and you know what? I secretly really it. The point is I'm not saying that cooking with prosciutto and related pork products is the
key
to romantic success, but I'm just sayin' if you use them liberally, they might just get you hitched.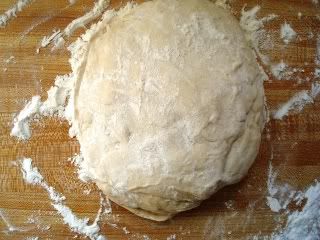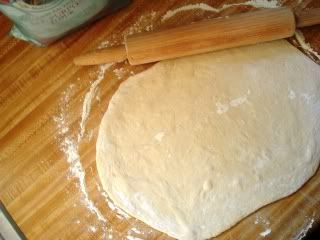 We have been engaged for two months now and neither of us can say the word "fiancée" without wincing awkwardly or saying it like Elaine from Seinfeld. I've found Paul has jumped straight to calling me "wife" while I prefer the more scientific sounding "Future Husband" (picture him in a space suit). I held off on writing a post about the engagement on here (not because I didn't want to) so that we could tell friends the good news in person. This isn't the last I'll mention the upcoming nuptials, but details I share on here will be sparse, I promise. The last thing the world needs is another wedding blog to teach it how to spend thousands of dollars on bedazzled sea shell favors and the difference between light blue, baby blue, robin's egg blue and periwinkle. Totally mental.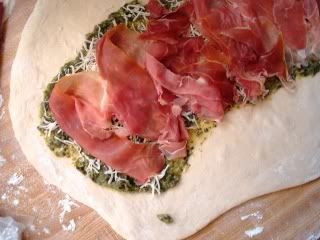 So enough about love, let's get back to the salt cured pork, shall we? That's what you come for right? I've been heavy into prosciutto ever since college, when I lived on Arthur Avenue (the
real
Little Italy) in the Bronx. A deli called Tino's has always, and (hopefully) will always have the World's Greatest Prosciutto, Mozzarella and Basil sandwich known by mankind, in this century or any other. This calzone is a take on that classic combination. If it works as a sandwich, trust me it will work rolled up and baked into pizza dough. I mean, really, what wouldn't?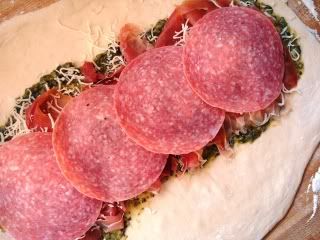 TINO'S PESTO and PROSCIUTTO CALZONE
Pizza dough (store bought or homemade, enough for one pizza)
Shredded part skim mozzarella or Italian 4 cheese blend* (approx. 1-1 ½ cups)
¼ lb. thinly sliced prosciutto
¼ lb. Genoa salami
Approx. ½ cup pesto (either homemade or store bought)
Olive oil or olive oil spray
2 tbsp. butter
*while I'm normally an advocate of buying blocks or cheese and grating it yourself (it's cheaper, tastes better), in this case I do think that a bagged shredded cheese works well. Because it's pre-shredded, it has less moisture, so your calzone won't get soggy on the bottom. I like Cabot or Sargento is fine as well.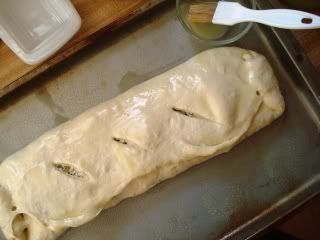 Preheat your oven to 400. Let your dough hang out at room temperature for a bit while you gather your ingredients; if you live in a drafty old house like me, place the dough near to the heat of the stove as it preheats, to give it a little help. Dust your countertop or cutting board with flour and roll out the dough to a wide rectangular shape. Use a spoon or spatula to spread a layer of pesto right in the middle of this rectangle (about half a store bought package or approx. ½- ¾ of a cup). Leave room at the front and back or your dough for folding over and a little edge on either side for sealing the ends. Sprinkle a layer of cheese on top of the pesto and then arrange a layer of prosciutto on top. You will only use half of the ¼ pounds of prosciutto and salami; I saved the rest and made another calzone with the same ingredients. It's calzone-central around here these days. Also, I should mention, I pulled any large, fatty edges off of my prosciutto just so no one eating the calzone would have one of those experiences where they take a bite and pull the whole filling out with that bite (that's the worst).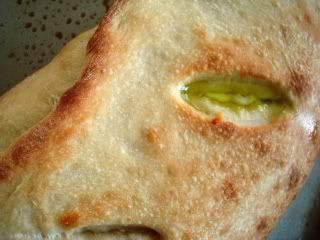 Following the prosciutto, sprinkle a bit more cheese and then layer slices of salami. Top this with remaining cheese (the most yet) and then fold the bottom half up and then layer the top half on top, using your fingers to pinch it closed. Fold the ends over and tuck them in, giving them a quick pinch to seal. Transfer your calzone to a lightly oiled cookie sheet and then microwave the butter in a small bowl or ramekin for about 20 seconds, or until it is liquefied. Use a brush to brush a layer of butter over the top of the calzone and then cut a couple small slits in the top of the dough for ventilation. Bake in the oven for 10-12 minutes*, or until the bottom is lightly browned, as well as the top. You may also be able to see cheese bubbling out of the ventilation holes. When you take it out give it a tap with your finger tips to make sure that the dough is cooked.
*My oven runs cool, so I ended up cooking this at 425 for about 12 minutes, but if your oven tends to run hotter, check it between 8 and 10 minutes of cooking.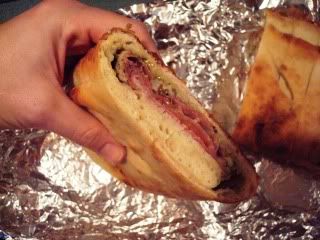 QUICK MARINARA SAUCE (optional for dipping)
1 can diced tomatoes in sauce
1 clove garlic, minced
1 small onion, finely diced
Good quality dried oregano and basil
Salt, pepper, sugar
I let this simmer while I prepared my calzone so that we would have a little something to dip it in. Tomatoes out of the can taste very acidic so you need to give them a little love. What I did was heated up a sauce pan with a generous splash of olive oil, added the onion, then the garlic and the can of tomatoes. I let it simmer a few minutes and then added about scant tablespoon each of the oregano and basil then a generous amount of salt, pepper and a big pinch of sugar to cut the acid. I turned the heat down and let it simmer for about an hour. Taste and adjust seasonings as necessary.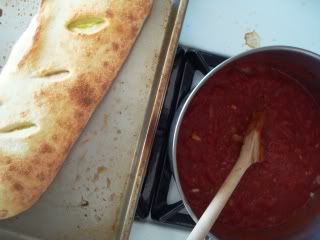 Serve on the side of the calzones. It's a nice balance to serve sauce with this particular calzone because the prosciutto makes it pretty salty. These travel well and are delicious re-warmed in an oven or at room temp.