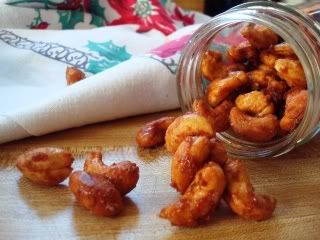 Tis the season for fancy spiced nuts. This project is for the Anti Marthas among us. I think everyone
likes
the idea of giving people a little something something homemade at the holidays; but not all of us relish the idea of spending a whole December Saturday holed up in their kitchen knee deep in melted chocolate. I mean, we all have better things to do right? Like boxing out people at the clearance ornament rack at Target or putting hexes on the first born children of the people that won't let us in the line to pull out of the parking lot (just kidding, I'm super zen in the car).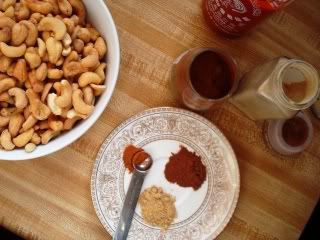 These Thai spiced cashews are just the thing. Homemade enough to let people know you care about them enough to turn your oven on, but fast and easy enough to let you maintain your sanity. Extra bonus: they are also crazy delicious.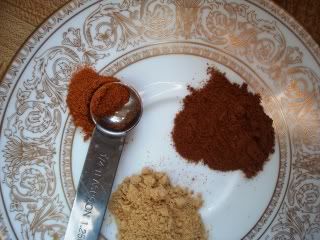 Let's be honest with each other, shall we? When encountered with a bowl of holiday nut mix or even regular, non holiday nut mix of any sort we sit there and pick out the cashews. Maybe sometimes the macadamia nuts if we're feeling adventurous. No? Anyone? Just me? Well anyways, I thought my favorite nut would be delicious with some Thai flavors mixed in. A little spicy, a little sweet, these are completely addictive and I need to make another batch before I eat all of my gifting ones.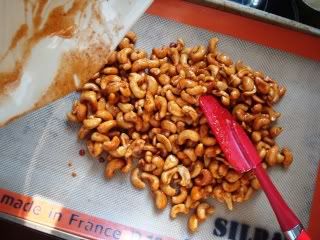 THAI SPICED CASHEWS

One package roasted, salted cashews
One egg white
One tablespoon water
1 ½ tablespoons Sriracha hot sauce
¼ teaspoon cayenne
½ teaspoon Vietnamese cinnamon
½ teaspoon ground ginger
¼ cup brown sugar
1-2 teaspoons granulated sugar, if necessary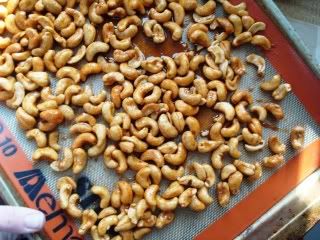 Preheat oven to 300. Combine egg white, water and Sriracha in a bowl. Beat together with a fork to combine. Add cashews and use a rubber spatula to toss together in order to coat the nuts in liquid. Add spices and brown sugar, toss together thoroughly to coat.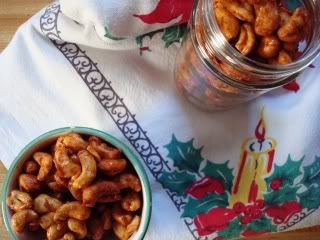 Line a baking sheet with parchment paper or a silpat liner. Pour nuts into pan in one even layer, making sure to scrape out the extra "juice" on top of the nuts. Bake at 300 for 30 minutes, tossing every so often and rotating the pan to ensure even roasting.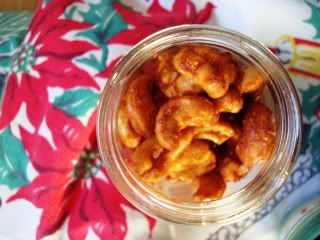 These are delicious as is. However, I'm making another batch tomorrow for stocking stuffers and I want the second batch to be a bit spicier. So I'm going to slightly up the amount of Sriracha and cayenne. The guys in my life like em spicy.
SPICY!