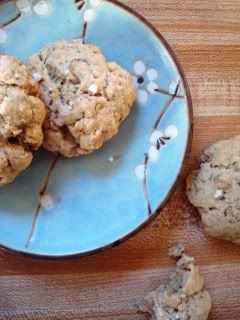 Well, well, well….what do we have here? Some savory cookies are what we've got. Yeah you heard me cookies that are salty, not sweet. Oatmeal based with the tiniest bit of sugar, these hearty little nuggets are packed with salty parmesan and a little hint of rosemary.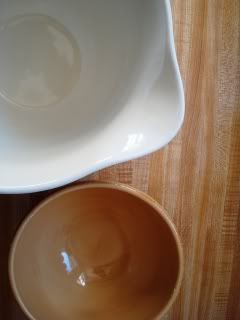 I read this recipe one morning a little while back and within 30 minutes these were coming out of the oven. They are so easy to make and so different and delicious I was glad to have found this recipe and I think these will be holding a spot in my repertoire for a while.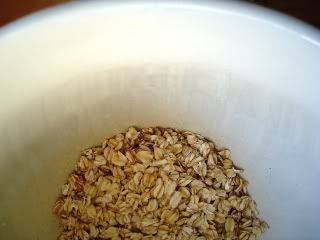 ROSEMARY PARMESAN OATMEAL COOKIES
(from the kitchn.com)
1 cup old-fashioned oats
¼ cup warm water
1/3 cup extra virgin olive oil
¼ cup lightly packed light brown sugar
1 large egg, beaten
1 cup sifted unbleached all purpose flour
½ tsp. fine sea salt
¼ tsp. baking soda
2 tsp. chopped rosemary
¼ tsp. freshly cracked black pepper
1 cup freshly grated Parmesan cheese
flakey sea salt or kosher salt
Preheat the oven to 350° F.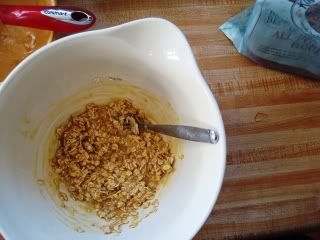 Place the oats in a large mixing bowl and sprinkle the water over them.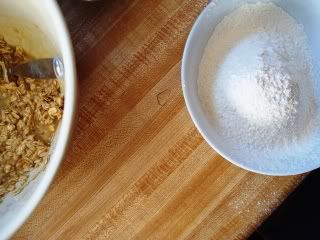 In a small bowl, mix the olive oil, brown sugar and egg. Pour this mixture over the oats, stir to combine, and set aside.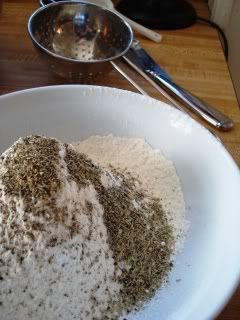 In another mixing bowl, combine the flour, fine sea salt, baking soda, rosemary, and black pepper. Whisk to combine well. Stir in the Parmesan.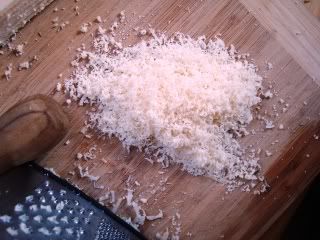 Gradually sprinkle the flour mixture over the oat mixture, stirring until combined. For me, at this stage it was very helpful to get my hands into the dough and work it together.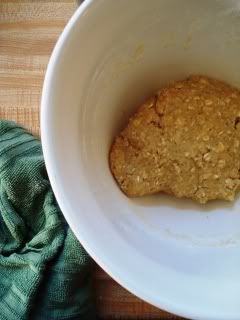 Form tablespoon sized scoops of batter and place, evenly spaced on a baking sheet lined with parchment or a Silpat liner. Flatten out each piece slightly so they're about ¼ to ½ inch thick and is an evenly shaped disk.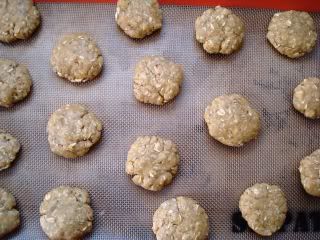 Sprinkle a pinch of salt on top of each. I used some nice flaky grey salt I have and I have no idea what to do with it. Maybe I should ask Michael Chiarello, since homeboy puts that stuff in err'thing.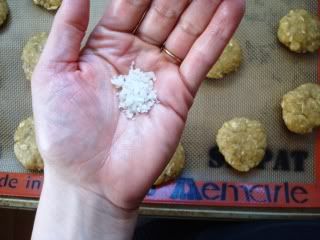 Bake for 15-17 minutes, until the edges are slightly darkened.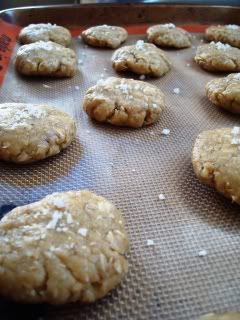 Remove to a cooling rack. Serve alone as a savory snack or with cheese and crackers. The original serving suggestion with this recipe was to smear soft cheese on these and I think that does NOT sound like a bad idea at all. Though I ate most of mine straight up and they didn't last long.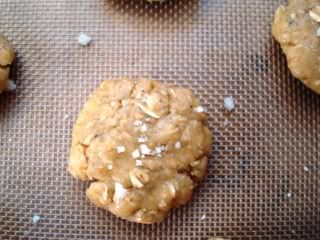 Makes a little over one dozen cookies.