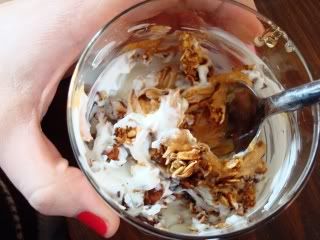 I have documented my tried and tested granola recipe on here
before
. But it was several years ago and whenever I go back and look at old posts I want to die a little. The photos (or lack thereof) and wordiness of the writing is akin to stumbling upon poetry and journals from my formative years. True story: when I was moving out of my childhood home going through stuff, my friend Erica and I found a "newspaper" that my friend Alicia and I had published when we were probably 11 (yes, in our spare time we
wrote a newspaper
- can someone say "Nerd Alert!"?). Anyways, we didn't work very hard on it and it wasn't very good. The big scoops I covered were Gossip and Sports. In Gossip News, my sister had been in trouble with my parents and in Sports News I had "gone to my first Red Sox game and eaten the best hotdog I've ever eaten in my whole entire life".
That is what I covered for sports news: what I ate at the game. Sounds about right! Anyways, Erica and I laughed until we practically cried over that "best hotdog" newsflash but still…coming across your old documents is always embarrassing, whether it's the spelling or the content or the handwriting itself. That's how I feel with some old posts and I'm sure I'll feel that way about some of these current day posts some day as well. Regardless of that, I made enough updates to my old go-to granola to post the new and improved version here today.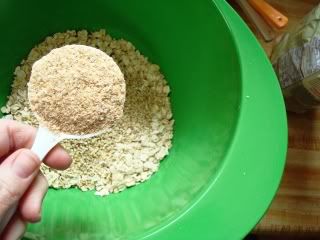 I have been itching to combine peanut butter, honey and granola since some time last year when I made a failed batch of a peanut honey granola using a recipe that I found online. It burned to a crisp in about 10 minutes. This time around I decided that I would make a simply spiced, nut-based granola with a touch of flaked coconut and that after it was done I would mix in the peanut butter and honey (because it was the honey I believe that burned). Let me just tell you: I'm sorry it took me so long to get around to this, because I just ate the tastiest granola parfait in recent memory; maybe in my whole entire life.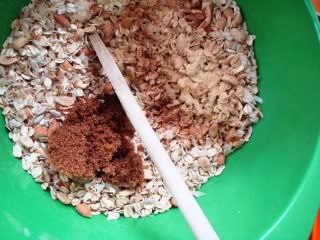 HOMEMADE COCONUT ALMOND GRANOLA

1 cup rolled oats
½ cup steel cut oats
½ cup raw almonds, coarsely chopped
½ shelled roasted peanuts, coarsely chopped
¾ cup flaked coconut (sweetened is fine that's what I used)
¼ cup wheat germ (optional)
2 tsp. cinnamon
1 ½ tsp. ground ginger
Pinch salt
¼ cup dark brown sugar
¼ cup honey
¾ cup applesauce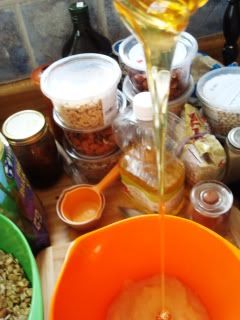 Preheat oven to 300 degrees. Combine all of the dry ingredients (up to the brown sugar) in a large bowl. Stir together thoroughly. In a medium sized bowl stir together the honey and applesauce. Pour over the dry ingredients and stir together completely to coat.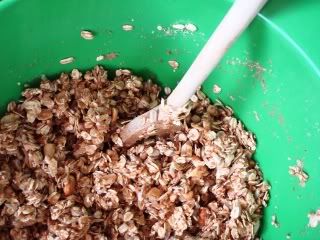 Bake granola on parchment paper lined baking sheets for 50 minutes to an hour. Turn the pans and stir the granola every ten minutes. Remove from the oven and let cool entirely on pans. It will crisp up more as it cools.
This makes a mammoth amount of granola. And it keeps foreevvver if stored in an air tight bag or Tupperware. You can eat it simply like a cereal with milk or by the handful as a snack. Here's how I'm using most of it up: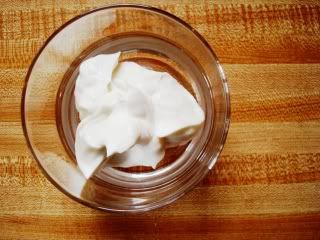 PEANUT BUTTER and HONEY GRANOLA PARFAITS
Dollop Greek yogurt into a bowl or glass jar. Add a scoop of Coconut Almond Granola, a tablespoon of peanut butter (preferably all natural) and top with a drizzle of honey. Include a banana if you have one around, it would be stellar in this. I didn't have any bananas on hand, but this was delicious nonetheless.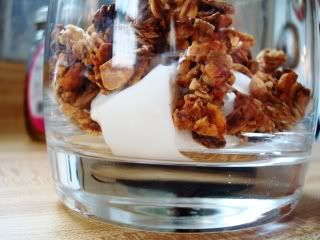 It's so good it felt like I was eating a loaded Pinkberry treat. Nutty, sweet, salty and tangy. I can't WAIT until breakfast tomorrow when I can have another one.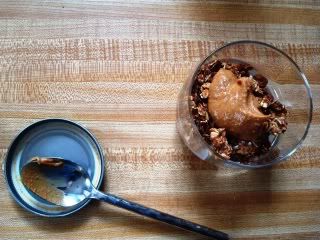 This hearty breakfast treat would travel well: simply prepare it in a jar with a screw on lid, like a mason jar or even a recycled sauce jar.
Clamp the lid on and roll to work, eat it when you get there to start the day off on a high note.