I have officially lost my mind. I would like to think that I'm a pretty chill bride by most standards. I have been actively trying to not obsess or stress, I've been trying to get things done in little spurts and have thus far limited any bridal meltdowns to few and far between and for Paul's ears only (he is SO lucky). However, that being said I am currently completely obsessed with finding the perfect thing for my sister to wear and also obsessed with my tablescapes. I just actually typed that word. I also just emailed my caterer and wrote a three paragraph email about the availability and existence of zig zag patterned napkins. Call the turnip truck and tell them to pick me up because I have officially FALLEN OFF.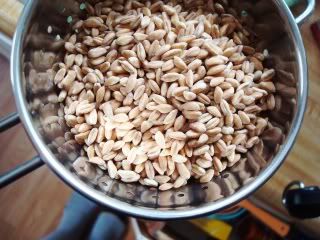 And so with that bridal rant over and done with I can move on to more normal pastures. My "wheelhouse" as they say. Let's talk about LUNCH! It will be so nice for me to talk about something that doesn't make me want to kill myself while the words spill from my fingers. So what I've got for you this week is a nice little Farro Salad.
Farro, if you've never heard of it (and most people haven't) is a whole grain which is part or whole of a wheat plant. I don't quite know. It's confusing,
even to Wikipedia
and those dudes know everything. It, to me, is a bit like barley in looks but has more of a denseness and chew to it. It's a terrific texture, is a great blank canvas for dressings or pestos and is very healthy and filling. It's also hard to find. I mean, when I can't find, as my friend Matt would say while good naturedly making fun of me an: "insert pretentious sounding grain here" at Whole Foods, you know it's random. And I'm of course obsessed with it. I guess in this way, farro is the zig zag napkin of my lunch menu. Seriously, welcome to my brain right now, I'm so sorry that you're here.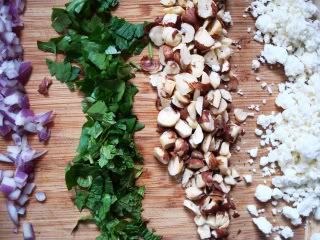 THAT BEING SAID, this salad would also be terrific with quinoa, wild rice, bulgur wheat...pretty much any pretentious sounding grain you can get your hands on. The dressing has a little kick which works really well with the tartness of the dried cherries and the rich, toasty hazelnuts. I made it a full lunch by piling a scoop on some arugula and topping it with a poached egg; but it would also be great as a side with grilled chicken, salmon or shrimp or by itself cold, straight out of the fridge, which is how I ate the rest of it.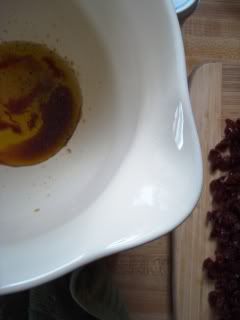 FARRO SALAD with DRIED CHERRIES, HAZELNUTS and FETA
1 cup dried farro, prepared according to package instructions
¼ cup dried cherries, chopped
¼ cup hazelnuts, toasted and chopped
1 tbs. fresh mint, chopped (approximately)
2 tbs. fresh flat leaf parsley, chopped (approximately)
Crumbled feta cheese (about ¼ cup)
¼ small red onion, finely chopped
1 tbs. honey
Scant 2 tsp. Sriracha hot sauce
¼ cup olive oil
2 tbs. sherry vinegar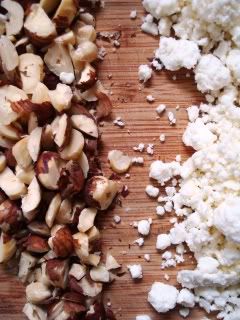 Prepare the farro according to package directions. My farro was "pearled" and only had to cook between 12-18 minutes, but I have read other recipes for farro that had it cooking for 50 minutes, so I am guessing that in my particular case "pearled" meant "instant" or, as instant as this ancient grain could be. Regardless, the way to cook it is to boil it in salted water. Unlike rice or pasta, you don't have to wait for the water to boil before adding the grain, you just dump it in right from the get go.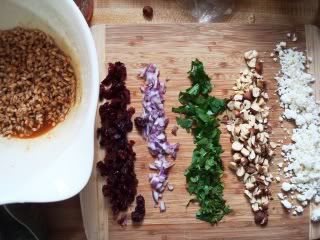 While the farro cooks, toast the nuts in a small skillet until fragrant and chop the onion, cherries, parsley and mint. In a large bowl combine Sriracha, honey and vinegar and whisk together briskly while streaming in the olive oil.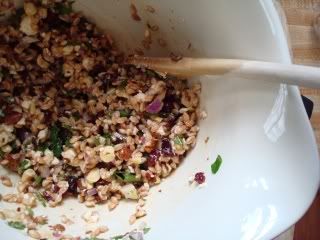 Drain the hot farro and toss in the bowl with the dressing, add all other ingredients, a touch of salt and pepper and enjoy. Delicious warm, room temp. or chilled.