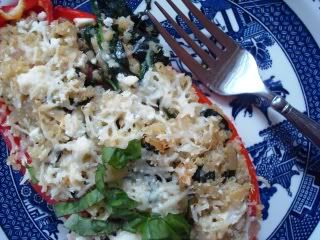 Typically when I think of the word "stuffed" I cut to a mental image of me waddling out of Pizzeria Regina after gunning back a pizza on a Sunday afternoon. "Stuffed" food to me doesn't necessarily conjure up images of healthy dishes either. I normally imagine something jammed full of bread cubes, bread crumbs, cheese or bacon (mmmm).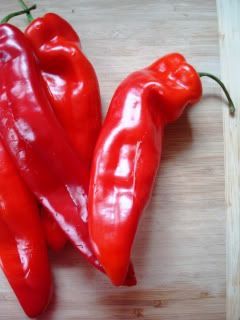 I have, however, been thinking lately about making stuffed peppers- but, not your traditional meat and rice stuffed green boats dripping with marinara sauce. When I saw these lanky red lovers on sale in the produce department I knew they were the peppers for me. I'm not too keen on green peppers anyways and I thought that these, sliced length-wise would make for some elegant stuffed peppers indeed. I decided to stuff them with onions, spinach, cheese and quinoa, for the sole fact that I happened to have all of those things in my fridge. You could likewise add some mushrooms, swap out the spinach for a different kind of green or use any kind of cheese you wanted.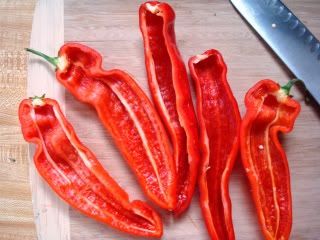 SWEET RED PEPPERS STUFFED with
QUINOA, SPINACH and CHEESE
4 Red "Grilling" Peppers*
1 medium onion, minced
2 cloves garlic, minced
1 bag baby spinach
1 cup quinoa
2 cups water
¼ cup bread crumbs
1- 1 ½ cups grated cheese (a mixture of cheddar, parmesan and feta)
Olive oil
Salt, pepper
Fresh basil (optional)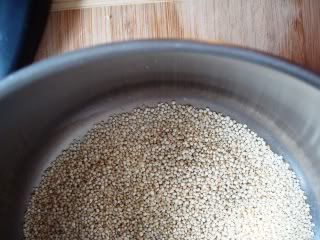 *You can use regular peppers of course, I was just inspired by these particular peppers and the fact that they were on sale.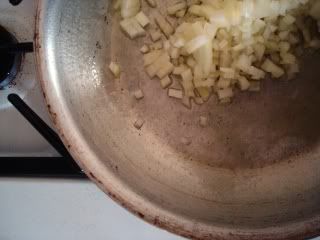 Heat a large pot of water to boil. Split the peppers length-wise and use a paring knife to scrape out any seeds and white ribs. Once the water is boiling, add a pinch of salt and blanch the peppers for just a few minutes (2-3 tops) to soften them slightly. Remove from water and rinse with cold water. Set aside.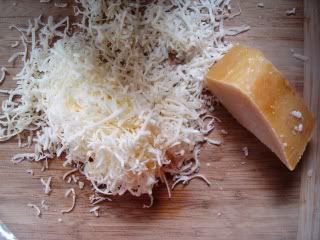 Bring quinoa and water to a boil in a covered sauce pan. Reduce heat to a simmer and let cook 10-15 minutes until the grains are cooked through and all the water is absorbed. While your quinoa cooks, heat a skillet over medium heat and sauté onion until translucent. Add garlic, reduce heat just a touch and let sauté for another couple minutes; add spinach in batches until thoroughly wilted, salt and pepper to taste. Remove from heat and set aside.
Preheat oven to 350. In a large bowl combine the spinach mixture with cooked quinoa. Let cool a few minutes before proceeding. Meanwhile prepare your baking dish by giving it a light spray of olive oil and then arrange the peppers snugly in the dish, cut side up. Once spinach and quinoa have cooled a bit, add bread crumbs and cheeses, reserving about ¼ of your shredded cheese for topping the peppers with. Toss together the stuffing; add salt and pepper to taste if needed. Because parmesan and feta are so salty, it may only need some pepper, but you be the judge.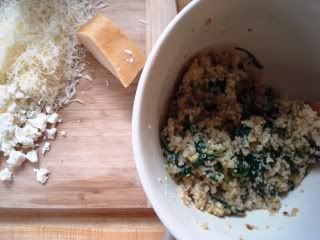 Spoon stuffing into peppers and top with remaining cheese. Bake for about 15 minutes or until cheese is completely melted. Top with fresh chopped basil and serve immediately. Yields about 4 servings.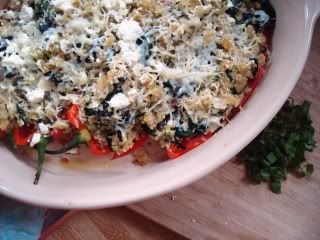 If I were to make these over, I would consider making a simple tomato sauce to spoon over. It doesn't necessarily need it, but it would be a delicious addition.