There are a couple of absolutes when it comes to Thanksgiving food in my family. And one of those is that a stuffing is simply not a stuffing without Pepperidge Fahms stuffing mix. At least we all thought it was that way. A few years ago someone made a turkey with Stouffers stuffing and half of us almost burned the house to the ground in protest. We didn't even know that in the other room not 10 feet away there was a turkey- made by my Aunt Linda as a "leftovers turkey" stuffed with pure Pepperidge Farm goodness. IF ONLY WE'D HAVE KNOWN! Does the fact that I'm still salty over a stuffing that I didn't eat two years ago tell you anything about me that you didn't know already? But, there are just some things you don't mess with and getting too funky with Thanksgiving sides- especially the stuffing- is just something you don't want to do.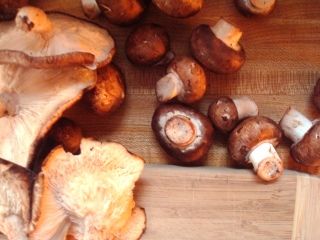 Now in Paul's family, his paternal grandmother, Ma's stuffing recipe is something that you simply don't mess with. Because it is, apparently, "stupid good". In lieu of traditional celery and sausage for moisture, it is made with bacon and mushrooms. Since the one hang up I have with regular stuffing is the fact that I sort of hate celery and I just so happen to adore mushrooms: color me intrigued. Also, color me a total Wife because upon hearing about this amazing stuffing I felt a powerful urge that as his bride I needed to be able to make this stuffing for him. Perhaps it's some kind of female territorial situation. Dogs pee on things; women, we make food for our dudes. At least I do.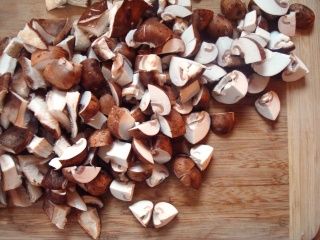 So armed with only the knowledge that there was bacon and mushroom in the stuffing, coupled with a loose know-how about how to make stuffing in general I made up this hybrid stuffing which pairs perfectly cubed Pepperidge Farms with the backbone of Ma's killer stuffing. The ultimate verdict was that it was pretty delicious, albeit not exactly a perfect replica of the stuffing of my man's childhood. Probably thanks to the creative license I took and the fact that it wasn't roasted inside a turkey. I know the real deal from inside the bird's is really what's up but I wasn't about to make a whole entire turkey in the middle of a Tuesday afternoon. Believe it or not even I have my limits.
BACON and MUSHROOM STUFFING*
¾ bag Pepperidge Farms stuffing mix (about 3-4 cups)
½ lb. mixed mushrooms (I used cremini and shitake)
3-4 tbs. olive oil
½ lb. bacon, cut into a small dice
1 large onion, diced
2 shallots, minced
3 cloves garlic, minced
One 32 oz. container chicken stock (or equal amount homemade)
1 egg, beaten
½ cup milk
3-4 sprigs fresh thyme
Salt
Pepper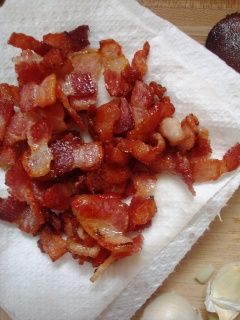 Heat oven to 375. Clean, stem and chop mushrooms; toss with olive oil on a cookie sheet, sprinkle with salt and pepper and set to roast for about 18-20 minutes. While the mushrooms roast, place diced bacon in a large skillet over medium-high heat and cook until well crisped. Drain bacon on a folded paper towel and set aside.
Turn heat off and pour off all but about 2 tablespoons of bacon fat. Bring skillet up to medium heat and sauté shallot and onion until softened and fragrant (about 5 minutes). Add garlic and sauté another minute before pouring in chicken stock. Add thyme, salt and pepper and bring up to a simmer for a few minutes more.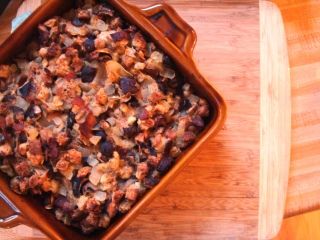 Remove mushrooms from the oven and toss in a large bowl with stuffing mix; fish the thyme sprigs out of the stock mixture and pour on top of bread and mushrooms. Add beaten egg and milk, mixing well; fold in bacon and add a touch of salt and pepper. The mixture should be quite wet, if it's not, add a splash more stock or milk. Spoon the stuffing mixture into a buttered baking dish and cover tightly with tin foil. Bake for 20 minutes, remove foil and let bake another 30-40 minutes until crisp and browned on top. Yields: approximately 6 servings. Double and use a full size baking dish for serving a Thanksgiving crowd.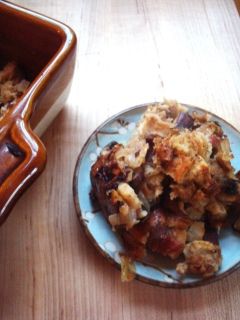 *so technically when stuffing is not stuffed into a bird it's referred to as "dressing", I guess. I found this out when I read some corrective comments over here. But seriously, let's not get too technical. People that have time to get into vocabulary fights over the minute details of food blog fodder are the reason why the terrorists hate us. So I prefer to call it stuffing-whether it sees the business end of a turkey or not.