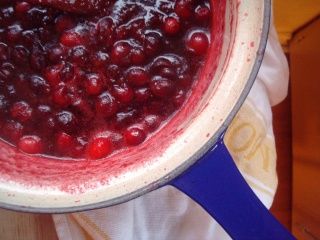 I'd like to say that this homemade cranberry sauce is so delicious, that you'll never buy canned cranberry jelly again. But everyone knows that would be a lie. Last week, during a foray into experimental stuffing making I talked about certain absolutes when it comes to the Thanksgiving menu. And I believe I am correct in assuming that Ocean Spray canned cranberry sauce is easily in the top five on the list of don't-mess-with-this–Thanksgiving-side-dish.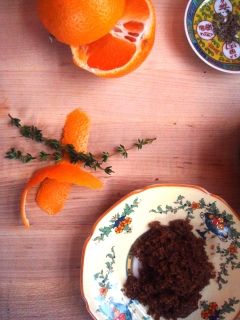 It's hard to come up with a homemade alternative to adequately compete with the familiar visible can lines and predictable jiggle of Ocean Spray Jellied Cranberry Sauce. Typically, when some well meaning fool makes a dish of homemade, chunky cranberry relish for the Thanksgiving table it sits rejected in its fine china bowl while the canned variety is gone before people dive into seconds. This year, I will be that well meaning fool, because I'm bringing this sauce. Come Thursday I'll be armed with a few other contributions and a jar of this sweet-tart, slightly drunken cranberry sauce. I'm hoping the troops at turkey day
go Lansbury for this cransberry
, but I'm prepared for the worst.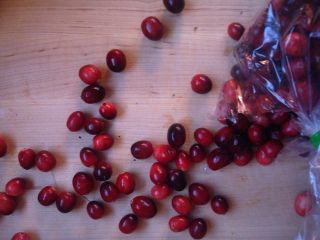 BOOZY HOMEMADE CRANSBERRY SAUCE
(a hybrid of an old Bon Appetit recipe and one rattled off by my boss)
1 ¼ cup ruby Port
2 tablespoons red wine vinegar
¼ cup brown sugar
2-3 strips of orange zest
Juice from one orange
2-3 sprigs thyme or rosemary
¼ teaspoon cracked black pepper
1 (1 lb.) bag fresh cranberries
½ cup granulated sugar
½ cup water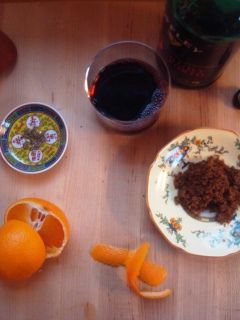 Combine the first 7 ingredients in a medium sized saucepan. Bring up to a boil, stirring often; until sugar is dissolved. Turn heat to medium-low and let simmer for 10 minutes. Fish out thyme or rosemary sprigs, add cranberries, granulated sugar and water and cook over medium heat until most berries are burst and liquid is slightly thickened, stirring occasionally, about another 6-10 minutes. Remove from heat and let cool completely. Store in an airtight container in the fridge for a week. Yields: about 2 ½ - 3 cups.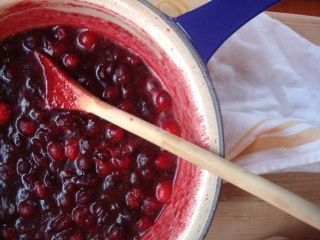 Happy Thanksgiving everybody! I hope Thursday finds you with full bellies the company of at least a few people you love very much. I would drop a meaningful quote about gratitude here, but instead here's one that simply made me laugh: "Thanksgiving, man. Not a good day to be my pants." –Kevin James