A brilliant friend of mine once said that the "only thing wrong with salads is that they are not sandwiches" and I couldn't agree more. It is true that sandwiches are hard to top in terms of sheer satisfaction. But, I am a believer that a really rocking salad can satisfy you just as much as a top notch sandwich in the right situation, if it's treated with the respect it deserves. You can't just toss some lettuce in a bowl with some crappy dressing. You have to get creative, you have to change it up, you have to roast some vegetables maybe and splurge on the good tuna.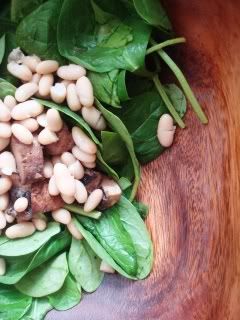 So I'm not going to act like this is a cool sexy recipe. This, friends, is truly a sensible salad. A Monday night meal meant to offset the persistent stream of funsize Snickers and Reese's Peanut Butter Cups that I shoveled down my gullet during the hurricane and Halloween last week. You know, in case we lost power I wanted to make sure I was extra slow moving thanks to copious amounts of nougat. But, in addition to being sensible (it truly is a nutritional powerhouse: packed with protein, fiber, vitamins and flavor) this salad is straight delicious. The kind of salad that makes you scrape your plate clean and feel no deprivation whatsoever. If I wasn't afraid of mercury poisoning/ too poor to buy the good tuna all the time, I would be eating this again today for lunch. It's the kind of salad I like to tell people about. And so I'm sharing it here.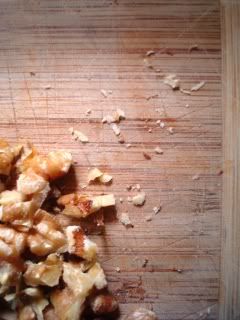 BABY SPINACH SALAD with MUSTARD ROASTED MUSHROOMS,
WHITE BEANS and TUNA in a GARLIC-SHALLOT VINAIGRETTE
1 bag baby spinach
¼ lb. cremini mushrooms
1 can white beans, drained and rinsed well
¼ cup walnuts, chopped
Feta cheese
1 jar good quality imported tuna in olive oil
Olive oil
Red wine vinegar
Dijon mustard
DRESSING
1 small shallot, minced
1 clove garlic, minced
½ tsp. honey
¼ tsp. Dijon mustard
Red wine vinegar
Olive oil
Salt
Fresh ground pepper
Preheat oven to 400. Clean mushrooms by wiping them with a damp cloth; pop out the stems, quarter them into chunks and place in a large bowl. Drizzle with olive oil (about 2 tablespoons), splash with red wine vinegar (about ¾ tablespoon) and toss a teaspoon of Dijon into the mix. Toss together well, place mushrooms on a cookie sheet, salt and pepper generously and bake for about 15-20 minutes, until cooked through. Remove from oven and set aside to cool slightly. These Mustard-Roasted Mushrooms are my absolute favorite thing to add to any salad at this time of year. I make a batch whenever I can so they are ready to go in the fridge. I can't believe I wasted so many of my younger years not liking mushrooms. Grow UP!
While the mushrooms roast, prepare your dressing. In a large jar or wide mug combine minced shallot, garlic, honey, Dijon and about 1 tablespoon red wine vinegar; add 2 ½ tablespoons olive oil and either clamp the lid on and shake to emulsify, or, use my preferred method: pop your immersion blender in and pulse until creamy. Place dressing in fridge until ready to use (keeps for up to three days).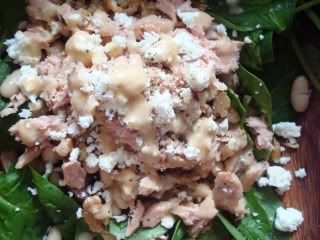 Place spinach in a large salad bowl, top with roasted mushrooms and ¼ to ½ cup of the drained, rinsed white beans. Drain tuna from oil and crumble on top (for a two person serving, you will only use about ½ the jar). Add crumbled feta cheese (about ¼ cup), chopped walnuts, salt and pepper; drizzle dressing on top. Toss well and serve immediately with some good quality bread.