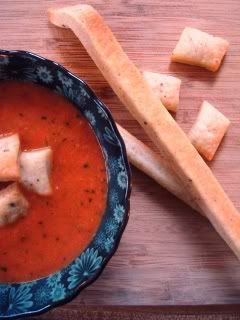 This soup is What's Up right now. I'm super pumped about it, because I've needed a go-to tomato soup for a while now. Campbell's tomato, while a classic, is loaded with crap and reminds me of the "sauce" that comes on spaghetti-Os which to me vaguely smells of barf (sorry). The issue I've found with some other tomato basil soups, like the one they serve at Whole Foods, is that they taste like a straight up bowl of tomato sauce. If I wanted to eat a whole bowl of tomato sauce well, I'd make damn sure there were some
meatballs
dropped in it, ya heard? This soup has layers of flavor thanks to the high heat roasting of the tomatoes onion and garlic, tastes rich with the addition of just a tiny bit of butter and cream, but comes together in no time. It really is so yum that I just got up in the middle of writing this and heated up a second serving- and burnt my mouth 'cause I got excited.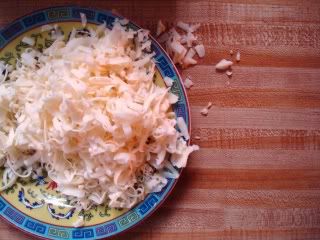 It was worth it. And did I mention the homemade cheese straws/ cheez-ITs? What you need to know about these is that they are crackers made of MOSTLY CHEESE. Which means that yeah, they are good. And ridiculously easy. I think perhaps I will make a round of these to contribute to the Thanksgiving appetizer spread or maybe just begin drinking all my beverages through cheese straws until people started to get worried about me. They take about 5 minutes to prepare and 15 to bake. I'm not a mathematician by any means, but by my calculations this means you could be snacking on these within the half hour. Get on board! Though equally tasty on their own; together, these two players are greater than the sum of their parts. The weather outside is cold and windy and raw, this soup is savory, warm and satisfying and also has home-style cheez-ITs in it, on it and all around it. And that, my friends is What's Up.
CREAMY ROASTED TOMATO SOUP
(adapted and hacked from a Michael "grey salt" Ciarello recipe)
1 large can whole tomatoes
¼ cup olive oil
1 large onion, peeled and sliced
6 cloves garlic, peeled and left whole
1 ½ cups chicken or vegetable stock
Salt
Fresh cracked pepper
Pinch sugar
1 tsp. butter
¼ cup fresh basil leaves
¼ cup heavy cream (optional)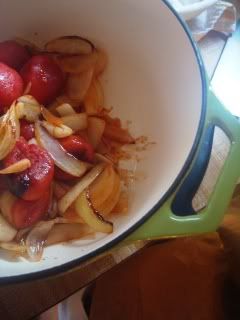 Heat oven to 450. Strain tomatoes, reserving juice. Place tomatoes, sliced onion and garlic in a roasting pan, drizzle with olive oil and place in oven to roast for 15-20 minutes, until caramelized and fragrant. Remove from oven and pour entire contents of pan into a Dutch oven; add reserved tomato juice, chicken stock and heat burner to medium high. Salt and pepper generously and add a pinch of sugar. Let simmer for about 20 minutes.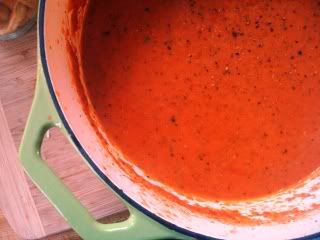 Turn heat to low, add basil leaves, a touch more salt and pepper and puree the soup with an immersion blender. Stir in cream (if using) and butter. Taste and adjust seasonings if necessary.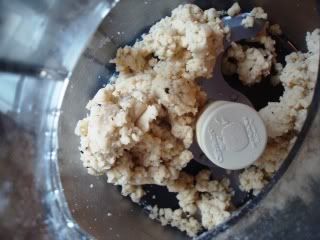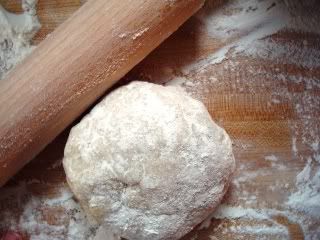 CHEESE STRAWS
(from
Smitten Kitchen
)
1 ½ cup grated extra-sharp Cheddar cheese
4 tbs. butter, softened and cut into pieces
¾ cup flour, plus more for dusting
½ tsp. kosher salt
½ tsp. or more cracked black pepper
1 tbs. half and half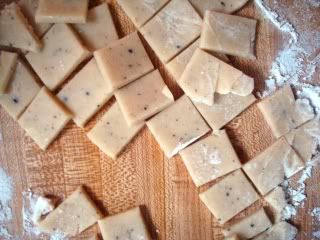 Heat oven to 350. In a food processor combine cheese, butter, flour, salt and pepper. Pulse until mixture resembles coarse crumbs; add the half and half and process until the dough forms into a ball, about 15-20 seconds.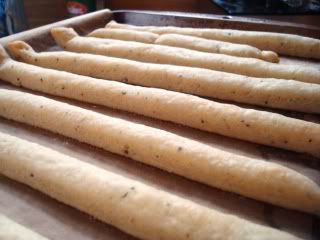 Flour counter or cutting board generously and roll dough out into a round-ish rectangle until it's approximately 1/8 of an inch thick. Use a pizza cutter to slice into thin strips. Mine were about a full ½ inch thick or so, you can get creative here and do what you feel. Although, technically if you cut them too thick, it would probably be misleading to continue to call them "straws." For my leftover scraps, I decided to slice them in both directions, making slightly misshapen "cheez-ITs."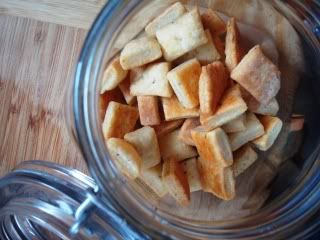 Because the straws puff a bit, I poked each one with a hole or two using a wooden skewer (just like the folks er, machines at the actual cheez-IT factory!) Bake for 12-15 minutes, until the tips or sides are just a little browned.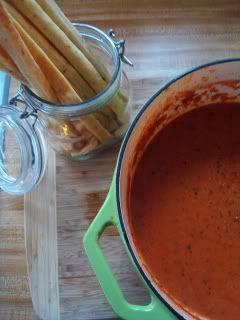 Remove and let cool. Serve at room temperature; store in fridge for a few days if not eating right away (but good luck with that).