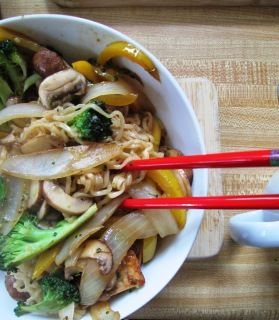 One time my mom accidentally ate some crumbled tofu off a salad bar (she mistakenly thought it was feta cheese) and when I concluded to her that it was crumbled tofu she reacted as though I had told her there was poison in her food. It's just one of those foods many categorically dismiss before they even try it. I know because I was once among you. My sister used to make tofu a ton when she was in college. Did I mention she was a total mountain hiking, Jetta driving, Massachusetts-to-Colorado transplant crunchy hippie at the time? Oh, because she was. Right down to her plastic water bottle from Eastern Mountain Sports (adorned with girl power stickers and snowboarding logos). When she made tofu I would scoff and laugh and turn back to the meatball sub I was eating to give it the attention it deserved. She would tell me "you just have to cook it right and you get over the texture" and "it's good because it sucks up all the flavor from whichever sauce you use and tastes like that." Add tofu to the list of things she understood was important well before me. These types of things are what older sisters are for.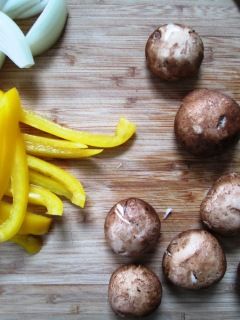 The issue I believe most people have with tofu is a textural one. It's a bit, well, squishy and jiggly unless you take due time to really press the excess moisture out. Second, you have to cook it in a way that crisps it up a bit and gives it some chew. In most reputable Thai food places, this of course means deep frying. But since I have neither the time, equipment nor the metabolic structure to allow myself to deep fry on a Monday night, I needed another method if tofu was ever going to find a regular spot in my kitchen repertoire. Marinated Baked Tofu was a recipe I originally found on the kitchn.com and shared with you
here
(holy cow THREE years ago?). This method is solid and stands the test of time as one of my favorite salad toppings, or even just a real quick snack to munch on to get me over the hump to dinner without putting the hurt on a bag of pretzels. I like to prep and bake the tofu while I clean and slice veggies for a simple stir fry. By the time the tofu is finished baking, you're prepped and ready to crank out a quick, healthy weeknight meal in just a few more minutes.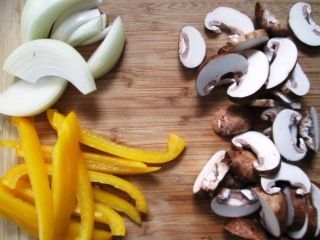 Of course you will need a good stir fry sauce. Nothing against Joyce Chen or any of the Taste of Thai empire, but I discovered a few years ago that it was relatively simple to make my very own homemade stir fry sauce if I had a few basic things in my pantry. Most of these ingredients are all shelf stable for quite some time and very cheap, so if you really love Asian food and you want to experiment with it at home (and also if you're trying to eliminate overly processed foods- there are so many unfamiliar ingredients in those jarred sauces), invest the few dollars in the following:
Sesame Oil (keep this in the fridge once opened)
Soy Sauce
Rice Vinegar
Sriracha hot chili sauce
Honey
The other optional alternatives I suggest investing in are sesame seeds and shelled roasted peanuts and maybe if you're getting confident, some fish sauce. If you don't eat the peanuts often, keep them in the freezer to prevent spoilage, fish sauce is fermented so it keeps in the pantry for quite some time. All you need in addition to these basics are scallions and garlic and maybe a small knob of fresh ginger root if the price is right at the store. These ingredients make up- for my Americanized purposes- a totally solid Asian pantry, where it is downright easy to whip together a stir fried noodle dish on any given night. This Basic Stir Fry Sauce blends together in a snap and would also make a ridiculously good marinade for flank steak, salmon, shrimp or chicken.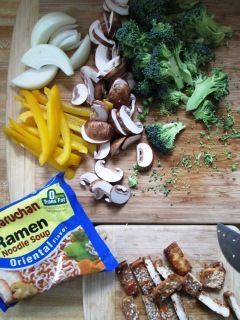 BASIC STIR FRY SAUCE
1-2 scallions, chopped
1-2 cloves garlic, peeled
1 teaspoon peeled, grated ginger (optional)
2-3 tablespoons soy sauce
2-3 tablespoons sesame oil
1 teaspoon rice vinegar
1-2 teaspoons Sriracha
1 ½ tsp. honey OR 3 big pinches of brown sugar
If you have an immersion blender, use it here (combine all ingredients in a wide mouth mug or jar that's big enough to fit the blade end of your blender in and pulse until combined). If using a regular blender, combine all ingredients and pulse to combine. Taste and adjust. If it's too salty add a touch more vinegar, another pinch or drizzle of sweetness and another dash of Sriracha. Too sweet: add a splash of vinegar and a little more soy sauce. Too acidic: add a little more oil and another pinch or drizzle of sweetness. Once it tastes good to you, set aside. (yields: about ½ cup of sauce, double portions if using as a marinade, even thinning it out with a few splashes of water if necessary).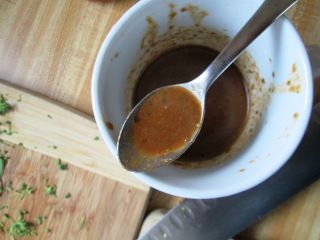 Now, onto the main event: all of these supporting players come together in this yummy, satisfying stir fry. If you don't have a wok, use a nonstick frying pan so you won't have to use too much oil. I suggest stir frying with a neutral oil like grapeseed, peanut or canola, because the high heat you cook with in stir frying does not work well with olive oil. As for the noodles, you can always skip them and make some white or brown rice to spoon this stir fry over; but I found that using good old Murachan Ramen (yes, college ramen- we always, always have some of these) was great. The noodles cook in three minutes and you simply cannot screw them up.
VEGGIE RAMEN STIR FRY
1 batch Crispy Baked Tofu
1 batch Basic Stir Fry Sauce
1 small head broccoli, trimmed into florets
1 small onion, white or purple, sliced into strips
1 small pepper (whatever color you prefer), sliced into thin strips
¼ lb. cremini or shitaki mushrooms, cleaned and sliced
1 package instant ramen noodles (flavor packet discarded), or other noodles of your choice
Grapeseed, peanut or canola oil, for cooking
Heat 2-3 tablespoons of your chosen cooking oil in wok over medium-high heat. Set another pot to boil with 2 cups water for your noodles. (If using alternative noodles, like rice noodles or angel hair pasta, prepare your noodles first according to package instructions and set aside). Add onions and peppers to wok and toss together to coat with oil, let cook just about one minute. Add mushrooms and broccoli, tossing together again to coat with oil. Using a pot lid big enough to either cover your wok or set inside of it (I find the lid of my pasta pot works perfect), cover the pan for 1-2 minutes, then remove the lid and stir again. Cover once again for another 1-2 minute increment, remove the lid and check. At this time add your ramen noodles to the boiling water and set your timer for 3 minutes. Keep the pan uncovered and continue to cook veggies, stirring often. You want your veggies cooked of course, but still a little toothsome so they have some texture and nice, bright color. Using the lid will steam them a bit, but you'll still be getting the yummy blistered edges from the high heat sizzle of stir frying.
Test a piece of broccoli for tenderness since they are the densest veggie you're using. Drizzle about half your sauce into the wok and toss together well. Drain the cooked ramen and add the noodles to the wok, along with the remainder of your sauce and if you like, some chopped peanuts and a sprinkle of sesame seeds. Toss together well and serve immediately, topped with a few tasty slices of
Baked Tofu
.