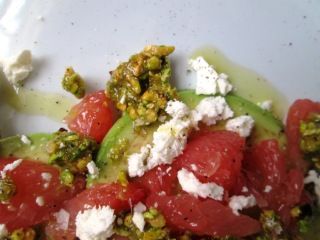 As far as visuals go, pink and green pair quite beautifully together. I know this because of the color wheel assignment I was forced to do not once but at three various times in my illustrious undergraduate art career: junior high, high school, even in college studio art (I am of course not even counting the ones I did unassigned, on my own, in my spare time because I was an insufferable art geek). I think that the art teachers were really, really keen on making sure we knew how to blend a viridian green and create a gradient scale with any color from the deck of Roy G. Biv. Hot pink and pale green in particular pair so well because they are baby-fied versions of the king and queen of contrast: red and green. Unfortunately, both pairs of colors have been co-opted by Santa Claus and the Christmas juggernaut and Lilly Pulitzer, respectively.
Fortunately for us, neither Kris Kringle nor the Real Housewives of Hingham, Massachusetts can lay claim to the beautiful visual interplay of this tasty little winter salad. This number is inspired by something my boss/friend (biend? fross?) Tim made at the last wine dinner we put on. The combination of sweet, bitter, salty and creamy makes for a very different kind of salad: both refreshing and savory at the same time and it made for quite a delightful lunch. It's so bright and pretty that, when eaten with bright sunshine streaming through the kitchen window, made me almost think that it wasn't actually February in New England and that we might not even be getting another snow storm for the third week in a row. I know from experience that this would pair perfectly with a nice glass of chilled white wine (so I guess we probably should invite the Real Housewives after all).
GRAPEFRUIT, AVOCADO and FETA SALAD
with PISTACHIO 'PESTO'
1 ruby red grapefruit, peeled, pithed and cut into sections
1 ripe avocado, thinly sliced
¼ cup shelled pistachios
2 tablespoons grated parmesan cheese
2-3 tablespoons crumbled feta cheese
Extra virgin olive oil
Honey
Flaked sea salt
Cracked black pepper
Like any good salad, the method here is mostly simple assembly. Sectioning the grapefruit is the most time consuming of the task, use a paring knife over a bowl to catch any discarded juices. My grapefruit was extra ripe, so I sliced it into thick slices and peeled sections out that way. You can save the accumulated juices for future use (like a cocktail?), or just do what I did and swig 'em down while you make the salad. Make sure to simply pile this together on the serving plate you will be using; not mix it together in a standard salad bowl. The individual components will mush together and make something pretty ugly if you choose that path. So as my mom would say, without a shred of irony, "don't go there."
In a small food processor combine pistachios, grated parmesan and approximately 1-2 tablespoons of olive oil. Pulse until it resembles a coarsely textured pesto. On your plate or serving bowl, spoon a small swipe of pistachio pesto and arrange grapefruit sections and sliced avocado on top. Top with another spoonful of pesto, a few crumbles of feta cheese and a small drizzle each of honey and olive oil. Sprinkle with salt and pepper and eat immediately. Yields: 2 servings.