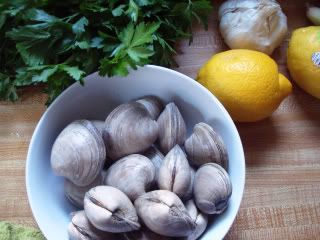 Last Sunday I had the incredible urge to make clams or mussels. I didn't know what but I knew that I absolutely, positively had to make some shellfish for dinner. With barbeque season in full swing so many of our weekend days, afternoons and evenings have been totally and completely dominated with meat and beer consumption. Not that there's anything wrong with that! But there comes a time where your body reaches a limit and says "Seriously, if you eat another hunk of meat today, I'm going to seriously quit on you" Sunday night's supper needed to be light(ish), it certainly needed to involve some sort of vegetables and I knew, because I was hell bent, that it would involve some clams.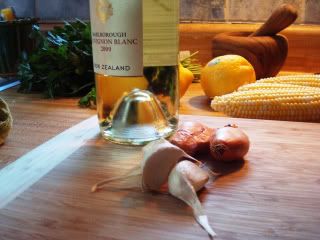 There's something about cooking seafood successfully that makes me feel all Fancy Pants McGourmet. And honestly, I don't really know where I get off feeling so self-satisfied because not only is good, fresh seafood very difficult to screw up, it's also probably one of the quickest meals around. But I dunno what it is, if it's from the sea, I'm impressed (with myself). For some reason when I bring a steaming bowl of clams to the table it packs much more punch than say a steaming bowl of pasta. Maybe it's the excitement of summer eating? Maybe it's just because having a bowl full of discarded clam shells on the table is just so New England Summertime Bourgeois. I should probably have put on some plaid pants just for the occasion, but if I owned those I'd face to punch myself in the face. On to the clams!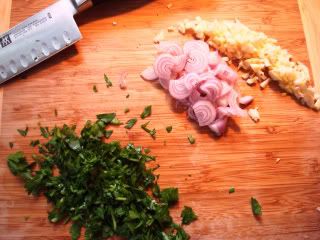 LITTLENECKS in WHITE WINE with GARLIC and SHALLOTS
18 littlenecks
Butter or olive oil
3 gloves garlic, minced
2 shallots, thinly sliced
1 bottle clam juice
¾-1 cup dry white wine
Fresh parsley, chopped
Water
Flour
Thick bread, such as ciabatta, for grilling or toasting
This meal comes together really quickly. So have everything ready to go before heating your pan.
Soak your littlenecks in cool water with a handful of flour for 30 minutes. This will allow them to purge out any sand that they're digesting. Meanwhile, mince your garlic, slice your shallots and chop your parsley. Drain your clams and set aside.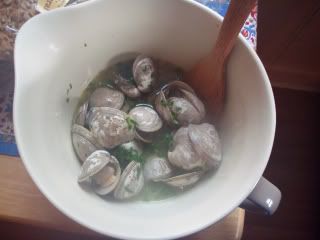 Heat olive oil and butter (about 2-3 tbs. of each, don't be shy) in a Dutch oven or pot with a tightly fitting lid over medium high heat. Sauté garlic and shallots, stirring often so as not to scorch the garlic, about two minutes. Cut your ciabatta in half and brush with olive oil on both sides. Dump in your clam juice and wine, let reduce just a minute or so. Be careful! Wine steam CAN light on fire if you're using a gas stove. Lesson learned. Crisis averted. Add your clams to the pot, clamp your lid on and let steam about 6 to 7 minutes, until all the clams are opened. During this time, grill or broil your bread until it's golden and toasty. So once again I'm presently you with an inherently crappy recipe with no measurements. I'm sorry, I just kind of winged it here, because I knew that liquid + clams + lid on = steamed clams. Dump the clams and broth into a bowl and toss the parsley on. Serve with the grilled bread to dip into the sauce, a lightly dressed salad, and corn on the cob.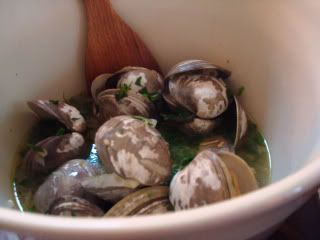 Things I would change on the next go 'round. One, I used only olive oil to start the process and I believe I would change the recipe to be mainly butter, and lots of it. Because clams and butter, right? No brainer. Second, I used the whole bottle of clam juice because in my head I was like "what the buns would I use 1/3 jar of leftover clam juice for?" I would change this, and use half the bottle. You don't wanna kill 'em with the clamness. Third, I didn't let my wine reduce. I poured it in, clamped the lid on, a few minutes later lifted the lid off, moderately scorched my wrist hair with wine vapor fire (whoa!), said a swear word and then replaced the lid until the clams were popped. Next time, I will let the wine reduce just a bit, to cook off some of the alcohol and let a little more saltiness shine through on the finished product. I think even if I did this, there would still be more than enough broth to steam the clams AND enjoy; but, all that being said, I am quite certain you could follow my directions as written above and still be delighted with the finished dish.