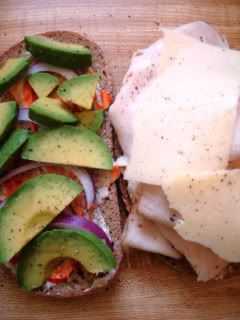 There are few joys greater in life than a fantastic sandwich. I once took an unpaid day off work just to try a particular Chilean sandwich joint that is only open on weekdays in downtown Boston. I'm not kidding. Sandwich availability was the deciding factor in my willingness to take a full day off without pay. There are some things in life you are willing to sacrifice for. Not too far from where I live, there is a particular slice of heaven called Circe's Grotto. It is arguably the best sandwich shop I've ever visited. At Circe's they bake their own bread on site, daily. The sandwich girls (it's mostly girls here so I'll generalize) must go through some sort of rigorous 20 step training process only open to a select few elite candidates. They are like the Navy Seals of sandwich making. Regardless of which sandwich engineer I am assigned the end result is always delicious, appropriately proportioned and foot thumpingly good. Don't even get me started on the cookies. Do. Not. Get. Me. Started. Or the fact that their ice is crushed not cubed (!!!) and they have fresh brewed iced tea and carry the best brand of kettle chips around. If god himself could grant my every food and snack wish, he would begin and end with Circe's Grotto.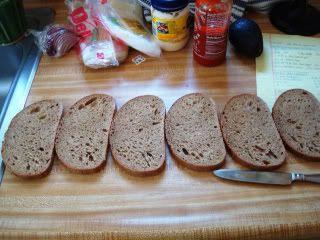 I'll take an excellent sandwich over pretty much any other food, any day of the week (except pizza). I feel quite strongly about it, because it's one of the only places I've come to for years that has yet to disappoint. Some days they will have a limited selection of ridiculous lobster rolls under the glass, or a particularly good salad special, but it's difficult for me to get away from the two sandwich choices that I love best. The sandwiches in question are their fresh mozzarella, which is topped with chunky, homemade pesto, mixed greens, ripe tomato slices on a dense whole grain bread and their turkey, cheddar and avocado: which is slathered with red pepper mayonnaise, thinly sliced purple onion, sharp cheddar and chunks of ripe avocado, the lot of which are pressed on a Panini press and melted to perfection. There is another menu option I like: a third dark horse in the running that involves marinated grilled and chicken, roasted peppers and gorgonzola, but it's served in a wrap and, I'll say this for the record: wraps ain't sandwiches.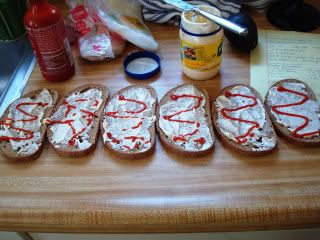 Circe's is my favorite place to stop before I go down to the beach. However, it's a bit out of the way and though my reputation precedes me (see above) as someone who's dedication to eating is unparalleled, sometimes I just can't make it all the way there. Especially if it's a busy beach weekend and making the stop for sandwiches would cut into my bronzing and lounging time by well over an hour. So you can imagine the bind I found myself in 4th of July weekend. I would need sandwiches, I knew that much, but loathed the thought of going out of my way. The local sub shop would be completely mobbed and the only good option there is a meatball sub and sometimes a gal just doesn't want to pair her bathing suit with a 5 lb. meat and sauce filled torpedo. So I did the craziest and zaniest thing. I made my OWN sandwiches and brought them with us to the beach. Isn't that quaint and old fashioned of me? How revolutionary a thought. To get the kind of sandwich I want without going out of my way I could make it myself.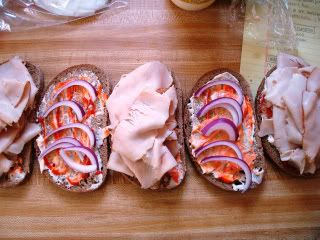 So, I'm not going to give you a sandwich recipe on here. I think you can probably figure out how to make a sandwich on your own (if you can't call me; so I can rip on you for a few minutes). Plus, sandwich preparation is an extraordinarily subjective and personal process. Some people hail from the Land of Much Meat while others have lived a life of Condiment Domination. It's a case by case scenario and I'm not going to force my sandwich beliefs on you. I will just give you a little inspiration. Our sandwiches were inspired by Circe's turkey, cheddar and avocado, with the difference being that instead of tangy red pepper mayo, ours were slathered with spicy Siracha mayo and we didn't toast or melt them because they were going to travel anyways. We paired these with some chilled pasta salad, a cooler full of beer and one of the most perfect beach days in recent memory.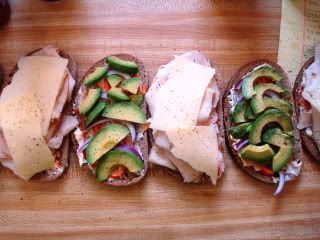 TRIPLE "P" PASTA SALAD
The three "P"s are for Pesto, Peas and Pasta. Although, now that I'm reading this I guess calling it "triple" and including one of the "P"s: pasta, in the title is a bit redundant, but you know what, now I'm attached to the name, so what's done is done. This is my take on a pasta salad offered in the cold case at Circe's. It's a great option for a picnic or to take to the beach because there isn't any mayonnaise, so you don't have to risk food poisoning in order to have a side dish with your sandwich. I like that. The last time I grabbed a container full of this I planned on sharing. Planned.
1 box rotini, ziti or bowtie
1 jar or package store bought pesto (or homemade, if you have time)
½ package frozen petite peas (or fresh, if you're in the mood for shelling)
¾ cup toasted pine nuts, or sunflower seeds
Approx. ¾ cup whole basil leaves, ripped off the stem*
Extra virgin olive oil (no exact quantity just have plenty)
½ cup to ¾ cup grated parmesan cheese (optional)
*a perfect substitution would be baby spinach leaves. I think that this is what Circe's uses in their original. I don't think they use basil leaves because basil leaves turn black after they are refrigerated for a while and I have never seen any black leaves in the Circe's version. I like the basil leaves for their flavor, just don't be surprised if they turn a little less than verdant on you.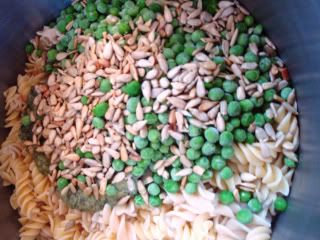 This recipe is so great for a couple different reasons: it travels well, it's summer appropriate, it's (kind of) not (that) bad for you and it's a classic "cook and dump" as in you cook the pasta and dump everything else in the pot once the pasta is drained and voila, side dish city. You don't even have to chop anything. Regardless, I will give you the steps I followed as I made this up as I went along:
Cook pasta according to package directions. Meanwhile, toast your pine nuts or sunflower seeds on low in a nonstick pan. When you can smell them, they're toasted. Be careful: nuts burn! Drain pasta and return to cooking pot, add half package frozen peas, toasted seeds/nuts, your pesto and basil leaves, drizzle a healthy amount of olive oil on and toss well. Taste, add more olive, salt, pepper and parmesan cheese (if desired). Refrigerate until ready to eat.